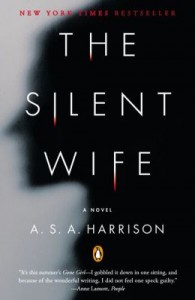 Fiction (Released June, 2013)
Bottom Line: Skip it.
Link to this book on Amazon
Plot Summary:
Jodi and Todd's "common law marriage" is shattered by Todd's infidelities and Jodi's reaction.
My Thoughts:
This book was advertised on Amazon as "this summer's Gone Girl", which I loved, but it did not live up to its billing. It's almost like Harrison thought she could more or less copy the formula of Gone Girl and it would be an automatic success. Or, maybe the comparisons with Gone Girl were created by P.R. people and are now doing this book a disservice.
Either way, The Silent Wife lacks the wittiness and total surprise of Gone Girl. You know from the get go that both Jodi, an outwardly steady psychologist, and Todd, a cheating entrepreneur, are deeply flawed people. My first impression of them was that they reminded me of the stiff, cold couple that were the Griswolds' next door neighbors in Christmas Vacation – down to the husbands sharing the name Todd!
I was pretty bored with this book by 3/4 of the way through – mainly because there was nothing really unexpected about the central plot twists. There was one twist at the end that was surprising, but it was related to a side plot and didn't really make sense with the rest of the book. I believe for a twist to have power, you have to be truly surprised, while also be able to look back at what you've read in a new light and still have it all make sense. It seemed that this twist was thrown in just for the sake of having another twist.
If you're looking for another Gone Girl, don't get overly excited about this one.