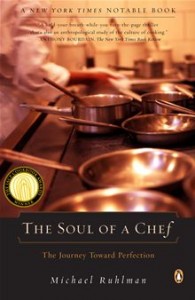 The Soul of a Chef: The Journey Toward Perfection

by Michael Ruhlman, Nonfiction – Cooking/Food (Released August, 2001)
Bottom Line: Read it.
Summary: Ruhlman explores what makes a chef successful by profiling three different examples: the Certified Master Chef (CMC) exam at the Culinary Institute of America (CIA), rising star chef Michael Symon, and reknowned chef Thomas Keller.
My Thoughts: This book is almost like three separate short stories, which makes it an easy read and keeps things interesting. Part 1 focuses on the CMC Exam, which is a professional certification given by the CIA (this is NOT the exam that CIA students take to graduate from the school). Ruhlman does a fantastic job writing about the exam in a way that has you biting your knuckles with suspense as if you were watching a sports event. His descriptions of the franttic lead-up to service for each section of the test and the judging panels provide serious drama. However, I did find the detail about classical cooking methods tedious to read at times. Part 2 focuses on Cleveland chef Michael Symon, who was a rising star on the culinary scene at the time and is now an Iron Chef on Iron Chef America. It's a light-hearted section compared to Part 1 and showcases Symon's bubbly personality, a critical factor in the success of his restaurant. I loved learning more about Symon's background, cooking style, personality, and business philosophy after seeing him on numerous cooking shows. He's kind of a badass and does food his own way while winning respect in the culinary industry. Part 3 focuses on Thomas Keller and "The French Laundry", widely considered the best chef and restaurant in the country. Ruhlman focuses on how Keller got to where he is despite no formal training and growing up in a family that was never focused on food. Ruhlman might be my favorite food writer – and this one is joining his first book, The Making of a Chef, on my Cooking / Food Books List.
Have you read The Soul of a Chef?  Tell us what you thought (without spoilers!) in the comments section.