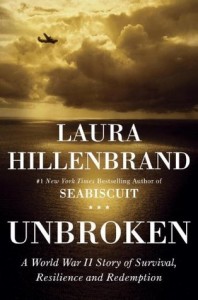 Nonfiction – History (Released November, 2010)
Bottom Line: Read it.
Link to this book on Amazon


Plot Summary:
Louis Zamperini, an ex-Olympic track star and WWII Air Force Lieutenant, is shot down over the Pacific and ends up in a Japanese concentration camp.
My Thoughts:
Astounding is the only word I can use to describe Unbroken – there is a reason for the hype. This story is so amazing that my husband stopped reading it because he determined there was no way some parts were true. I didn't agree with him, kept reading, and was so glad I did.
I also learned a lot about the Japanese concentration camps during WWII, which I feel were skimmed over in school in favor of the German ones (or maybe I just wasn't paying attention then).
Unbroken is on my Book Club Recommendations List.