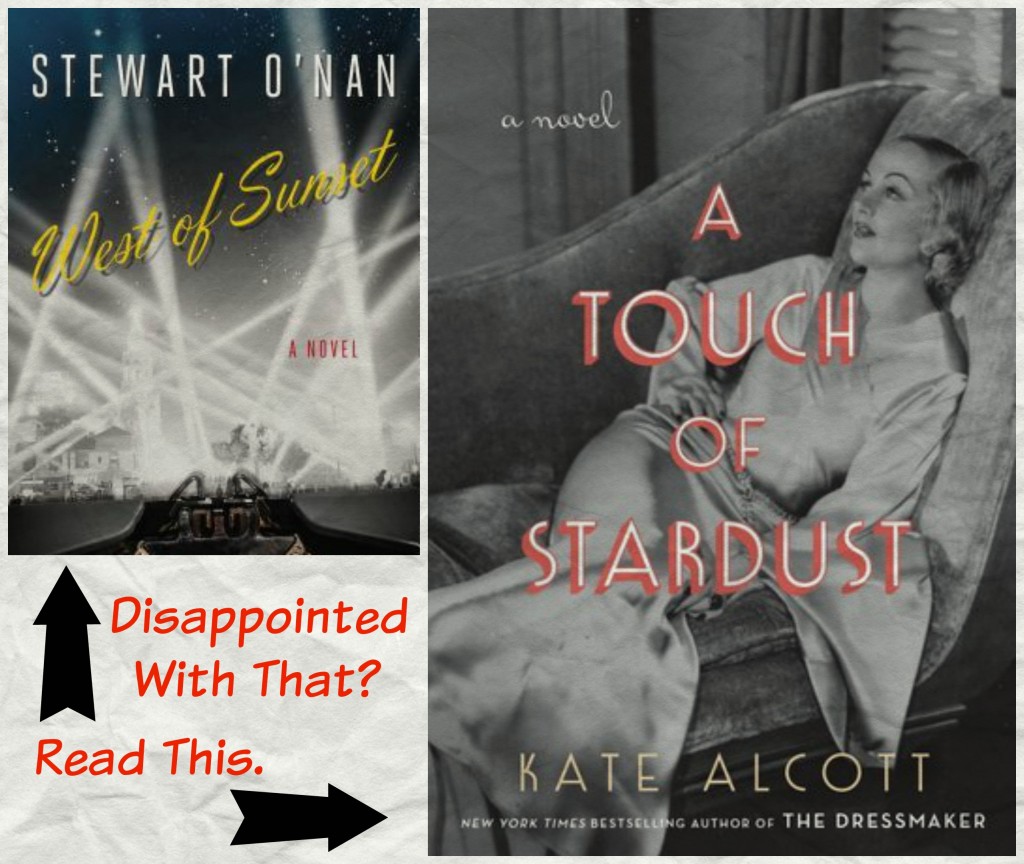 A Touch of Stardust by Kate Alcott
Fiction
Released February 17, 2015
306 Pages
Bottom Line: Read it.
Affiliate Link: Buy from Amazon

Source: eGalley provided by the publisher via NetGalley

Plot Summary
When innocent Julie from Fort Wayne, Indiana takes a lowly job on the Selznick International lot during the filming of "Gone with the Wind", she gets close to the glamor of the movie and its stars and looks for a chance to pursue her dream of being a screenwriter.
My Thoughts
Earlier this year, I reviewed Stewart O'Nan's historical fiction novel, West of Sunset, about F. Scott Fitzgerald's time trying to make it as a Hollywood screenwriter in the 1930's. That book didn't live up to my expectations, but it turns out that A Touch of Stardust is the 1930's Hollywood novel that I was hoping West of Sunset would be…complete with cameos by F. Scott Fitzgerald! It's a light, glamorous, entertaining read with lots of behind the scenes tidbits about the filming of "Gone with the Wind" (a fraught production, to say the least), Clark Gable (and his lover, Carole Lombard), Vivien Leigh (and her lover, Laurence Olivier), and David O. Selznick.
Beyond the juicy Hollywood gossip, what makes this book is a well balanced cast of characters (both real and fictional), each serving his/her purpose. Carole Lombard is a firecracker and a pain in the studio's backside (she keeps saying inappropriate things to the media and generally doing whatever she wants without caring what anyone thinks about her).
Carole to a reporter:

"You want me to talk about sex. I think sex is wonderful and therapeutic, and girls here in Hollywood should quit being obsessed with losing their virginity. And no double standard. Men who stray should be forgiven, and I want the same freedom for myself. That cover it for you?"
But, Clark is much more vulnerable and insecure than his public persona lets on. The fictional (I think) Andy Weinstein (Assistant to Selznick) provides jaded, sarcastic commentary about the ridiculous ways of Hollywood and nicely complements the fictional Julie, who allows you to view the whole glamorous shebang with appropriately starry-eyed wonder.
You don't have to be a "Gone with the Wind" fan to connect with this book, although it obviously helps. Alcott touches on the studio system in the 1930's, how mega-stars try to maintain some sense of their true selves, what it was like for a young girl to try to "make it" in a male-dominated industry in the 1930's, anti-semitism, the lead-up to the U.S. entry into World War II, and the challenges of a woman trying to follow her dreams instead of doing what is expected (i.e. marrying a nice Indiana boy).
I do have two small criticisms:
Various moments when big stars go far out of their way to help out people that don't matter stretch the imagination a bit.

Some of the plot elements weren't that surprising, but this isn't a thriller that is overly reliant on mind blowing plot twists. The glamorous setting and behind the scenes tidbits really drive this story.
A Touch of Stardust is a fun, glamorous read and is going on my 2015 Summer Reading List (coming in May, click here for last year's list).
You May Also Like:
The Paris Wife by Paula McLain
Z: A Novel of Zelda Fitzgerald by Therese Anne Fowler