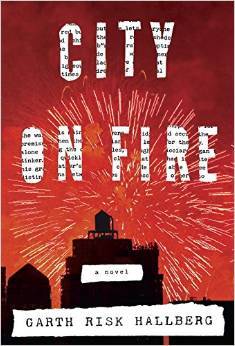 Historical Fiction
Released October 13, 2015
944 Pages
Bottom Line: Skip it.
Affiliate Link: Amazon

Source: Purchased
Headline
I truly believe there is a great book hiding in City on Fire's 944 pages, but it was unfortunately lost amidst pretentious language, an overreaching plot, and an ending that made me want to throw my Kindle across the room.
Plot Summary
A New Year's Eve shooting in Central Park brings together a wealthy banking family (the Hamilton-Sweeneys), a gay teacher from rural Georgia, a reporter suffering from writer's block, two Long Island teenagers, and some misfits from the downtown "punk" scene amidst the decay of 1970's New York City.
Why I Read It
Because I was curious about the debut novel that received a $2 million advance! And, because it's been marketed as reminiscent of Tom Wolfe's The Bonfire of the Vanities, which is one of my all-time favorite books.
Major Themes
Class, drugs, the punk scene, New York City, urban decay, family dynamics
What I Liked
Much of the writing is brilliant. Hallberg picks just the right words to describe something in a way that made me think "yes, that's exactly how it is."
Success in America was like Method acting. You were given a single, defined problem to work through, and if you were good enough in your role, you managed to convince yourself of its – the problem's – significance. Meanwhile, actors who hadn't made the cut scurried around backstage, tugging at ropes, making sure that when you turned to address the moon, it would be there.
The characters are representative of different walks of life (the punk scene, the wealthy corporate world, the media, and a couple regular Joes) and the story is told from these various perspectives, amplifying the tension between the classes in a way that's reminiscent of

The Bonfire of the Vanities

.
I was intrigued by the Hamilton-Sweeney family storyline, which was rife with upper-crust snobbery, family dysfunction, and sketchy business dealings, and how it would intersect with the Central Park shooting that occurs across the street from their massive apartment, during their annual New Year's Eve party. This story, alone, could have made a fantastic book that truly is "the next

The Bonfire of the Vanities

."

For the first 75% of the book, I was all set to rate it 4 stars on Goodreads. Though the story was a bit slow, I enjoyed the (mostly) brilliant writing, was invested in the central plot, and reveled in learning about the characters' backgrounds. After the halfway point, some of the extraneous plot fell away and the focus settled on the story I was truly interested in.
What I Didn't Like
Though much of the writing was brilliant, Hallberg got pretentious at times…to the detriment of the writing's flow. I had to use my Kindle dictionary far more than normal and, some teenager prepping for his/her SATs could probably just use this book to study for the verbal section! I don't mind big vocabulary words, but some of Hallberg's choices seemed out of place and unnecessary. "Husbanded his cash"…seriously?!
For having so far husbanded his cash pretty well, Mercer rewarded himself with one of the eponymous beverages.
Especially in the first half, Hallberg spent an inordinate amount of time focusing on the downtown "punk scene". Charlie and Sam, two otherwise normal Long Island teens, start hanging out in a shady squat with other punk derelicts doing drugs and listening to music. I frequently tuned out during these endless cycles of music, drugs, and indecipherable psycho-babble about the "movement" and I think they could have been drastically shortened while still setting the scene and connecting to the central plot.

Oh, the ending (insert exasperated sigh and eye roll). It dragged on for close to 300 pages and still failed to satisfyingly wrap things up. It felt like Hallberg got so engrossed in all the psycho-babble that he forgot to finish telling the story. I don't mind open-ended conclusions that make you think of all the possibilities, but this just felt lazy! I remember an old Top Ten Tuesday topic called "Books That You Wanted to Throw Across the Room" and

City on Fire

's ending would have put it firmly atop that list for me.
A Defining Quote
According to the Arbitron ratings he'd last checked in '73, Zig's audience had lately more than doubled. Every morning, thens of thousands of masochistic tri-staters were tuning in to hear him rant about the shooting of the unnamed minor in Central Park. Or this other thing, some insider trading case. Or their symbolic link to entropy, to decay.
How do you feel about extremely long books? Do you hold them to a higher standard because of the time you're devoting to them?