I read all three of these books in the hopes that they'd be candidates for my 2015 Summer Reading List. Some panned out and some didn't. 
Radiant Angel by Nelson DeMille

Fiction – Mystery/Thriller (Released May 26, 2015)
320 Pages
Bottom Line: Read it…if you're a fan of counter-terrorism thrillers.
Affiliate Link: Buy from Amazon

Source: eGalley provided by the publisher via NetGalley
Plot Summary: The disappearance of a member of the Russian Foreign Intelligence Service posing as a U.N. diplomat (Vasily Petrov) from a Hamptons party sends John Corey on a quest to stop a threat from a re-emerging Russia.
My Thoughts: Every now and then, I love a good espionage or counter-terrorism thriller and Nelson DeMille is my go-to man. Though Radiant Angel was an enjoyable read, it isn't one of DeMille's strongest books. I was interested in the spy tradecraft, the Russian terrorist mindset, the real life "what if" scenario DeMille poses (how a newly aggressive Russia could attack the U.S.), and the security weaknesses we still have in the post-9/11 age. John Corey, the ex-Anti-Terrorism Task Force agent who stars in many of DeMille's novels (i.e. The Panther, The Lion's Game), is his usual sarcastic, salty self, but the dialogue got a bit cheesy at times. I was also disappointed by the caliber of Corey's adversary (Vasily Petrov)…he wasn't quite as brilliantly evil as "The Lion" or "The Panther". And, I wish the suspense had been more intricate…there was only one real question to be answered rather than a web of intrigue to untangle. Though this wasn't my favorite of DeMille's work, it would still be a good read for fans of this genre or those interested in the newly re-emerging Russian threat.
Mosquitoland by David Arnold
Fiction – Young Adult (Released March 3, 2015)
354 Pages
Bottom Line: Read it.
Affiliate Link: Buy from Amazon

Source: Purchased
Plot Summary: After moving to Mississippi from Cleveland following her parents' divorce, sixteen year old Mim Malone goes on a road trip to find out what happened to her mother and why her father and new stepmother are trying to keep them apart.
My Thoughts: Mosquitoland is a quirky, but heartwarming book starring a precocious teen who pulled at my heartstrings. Mim's voice is distinctive in a Dawson's Creek, "older than her age" kind of way, but she also throws in the lingo of a teenager. The story is told partly through letters Mim writes while on the road trip to Cleveland and partly through her real time experience. After a delightful beginning that caused me to fall in love with Mim, I was ready to write this book off as "perfectly fine, but no more than that" as the road trip progressed. I swung between loving the letter sections (which mostly provided background about her family situation and her feelings about it) and really feeling the YA-ness (not a good thing) of the real time sections. But, I loved the direction the story took towards the end and it enabled me to view the rest of the book through a different (and better!) lens. If you like quirky teen stories, give this one a shot…and hang in there! Mosquitoland is going on my 2015 Summer Reading List.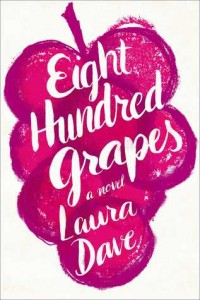 Eight Hundred Grapes by Laura Dave
Fiction (Release Date: June 2, 2015)
272 Pages
Bottom Line: Skip it.
Affiliate Link: Amazon

Source: eGalley provided by the publisher via NetGalley
Plot Summary: When Georgia Ford returns to her family's Sonoma Vineyard after discovering her fiancé had been keeping a huge secret, she doesn't find the comfort she's expecting.
My Thoughts: This novel was blurbed by Jonathan Tropper (author of This Is Where I Leave You) and I love books about family dysfunction, so I'd hoped for a fun and funny summer read. Alas, Eight Hundred Grapes was fairly predictable…and forgettable. There are certain elements straight out of "You've Got Mail", This Is Where I Leave You, and Seating Arrangements (all books/movies I loved), but the combination of so much "been there, done that" makes this novel feel like it doesn't have its own identity. Eight Hundred Grapes felt like a mildly entertaining romantic comedy (starring J.Lo) in book form, but I ultimately just didn't care about these people or any of their family secrets.