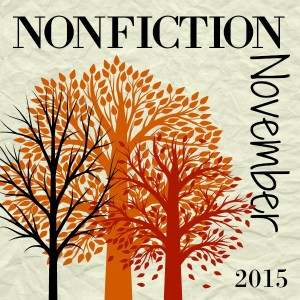 This review is part of Nonfiction November hosted by Katie at Doing Dewey, Kim at Sophisticated Dorkiness, Becca at I'm Lost in Books, and Leslie at Regular Rumination.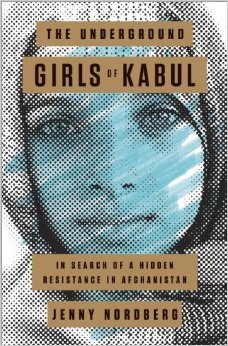 Nonfiction
Released September 16, 2014
350 Pages
Bottom Line: Read it.
Affiliate Link: Buy from Amazon

Source: Purchased
Headline
The Underground Girls of Kabul is an extremely readable, yet heart-breaking and eye-opening immersion in a culture that is brutal to women. It would also make a great choice for book clubs.
Plot Summary
Investigative journalist Jenny Nordberg exposes the "unofficial" custom of girls pretending to be boys (called bacha posh) in present day Afghanistan.
Why I Read It
This book was the darling of last year's Nonfiction November and I missed out on it then.
Major Themes
Women's rights, patriarchal societies, the Middle East, Islam, the Taliban, marital dynamics, war, gender identity
What I Liked
This is one of those books where you learn a ton, but don't realize it. I felt like I was just reading a story, but I might as well have been taking a course on life in Afghanistan (particularly for women), Islam, the Taliban, and the effects of war on regular Afghans.

The book goes way beyond the Afghan (actually, this custom can also be found in many other countries) custom of girls living as boys. It paints a vivid picture of what it means to be an Afghan woman, the importance Afghans place on every family having a son, gender and sexuality issues, marital dynamics, and patriarchal societies.

Nordberg clearly explained why Afghan families sometimes raise their daughters as sons and emphasized that there are a variety of reasons a family might choose this path. Though some of these reasons are inexplicable to a Westerner (i.e. having a bacha posh ensures that, via "magic", the next child will be a son), Nordberg helped me understand how these people, given their history, customs, and surroundings, could resort to such beliefs.

Nordberg focused on a rare female member of Parliament, Azita, to illustrate the broader bacha posh custom. Using Azita as the focal point gave me a specific person to root for.

This book was chock full of "did you know" tidbits, which I love in my nonfiction. For example, Afghans idolize Jack Bauer from the TV show 24, Afghan women's rights actually improved during the Soviet occupation (because the Soviets de-emphasized religion), Thursday nights in Afghanistan are for "conjugal traditions", and Saudi Arabia first allowed women to participate in the Olympics in 2012.
What I Didn't Like
Nordberg touched on the Afghan population's general impressions of its various occupiers over the years, but I was particularly curious about this and wished she'd gone a bit deeper. It was fascinating that the Afghans actually viewed the Soviets as liberators from "mujahideen infighting", but I couldn't quite get a handle on what they think of the Americans (although, this could probably comprise an entirely separate book).
A Defining Quote
Regardless of who they are, whether they are rich or poor, educated or illiterate, Afghan women often describe the difference between men and women in just one word: freedom. As in: men have it, women do not.
Good for People Who Like…
Investigative journalism, books about marriage, books that make you think, women's issues
Other Books You May Like
Because of its Afghanistan war (1980's war with the Soviet Union) theme:
Charlie Wilson's War by George Crile
Because of their similar styles of investigative journalism:
Missoula by Jon Krakauer
Under the Banner of Heaven by Jon Krakauer