Catherine of Gilmore Guide to Books joins me for a special Superlatives episode where we are answering from the fourth bucket of questions submitted for the Ask Me Anything episode of Sarah's Bookshelves Live. We give you a little taste of the bonus Monthly Superlative episodes Catherine and I often do for the Patreon community. This format is a favorite of mine, allowing for a bit more candor and a lot of fun. Today we tackle questions about our all-time favorite books, re-reads, auto-buy authors, favorite audiobooks, and more! 
This post contains affiliate links (plus: here's your Amazon Smile-specific affiliate link
), through which I make a small commission when you make a purchase (at no cost to you!).
Announcement
If you like this episode, consider joining the 

Patreon Community

($5/mo) to get our

bonus Monthly Superlative podcast episode series

! In these episodes, I feature a continued discussion with every big show episode guest from the current month where they answer 5 bookish "superlative" questions. One of my favorite things I hear from patrons about this series is how much they love listening to the same guests from the big show, but with a laid-back and relaxed vibe. Get more details about all the goodies available to all patrons (Stars and Superstars) and sign up

here

!
Highlights
Behind-the-scenes info on the Monthly Superlative podcast episode series for patrons.

Our all-time favorite books

Our auto-buy authors

How Catherine and Sarah feel about re-reading

Books from Sarah's and Catherine's childhoods

Immediate bookish turn-offs

What Catherine and Sarah find in a book that makes it easy to read
Superlatives
ALL-TIME FAVORITE BOOKS [03:15]

Catherine: 
Sarah:
AUTO-BUY AUTHORS  [09:59]

Catherine: 
Sarah:
FAVORITE AUDIOBOOKS  [14:03]

Catherine: 
Sarah:
FIRST BOOK THAT SPARKED YOUR JOY OF READING  [18:09]

Catherine: 
Laurie and Company

 by Eleanor Frances Lattimore (currently out of print) [18:21]
Sarah:
ALL ABOUT RE-READING  [21:23]

Catherine: 
Sarah:
SIGNIFICANT / IMPACTFUL BOOKS  [28:00]

Catherine: 
Sarah:
BOOKS THAT MADE YOU FEEL SEEN  [33:47]

Catherine: 
Sarah:
SARAH'S FAVORITE LITERARY MYSTERIES & SLOW-BURN SUSPENSE  [36:48]
Literary Mysteries: [37:14]
Slow-Burn Suspense: [35:41]
FAVORITE SPORTS FICTION  [38:44]

Catherine: 
Sarah:
FAVORITE BOOKS IN LEAST FAVORITE GENRE  [41:55]

Catherine (Horror): 
Sarah (Horror & Romance):
IMMEDIATE TURN-OFFS  [46:14]
WHAT MAKES A BOOK EASY TO READ  [49:34]
SENIOR MAIN CHARACTERS  [51:44]

Catherine: 
Sarah:
Other Books Mentioned
Other Links
About Catherine Gilmore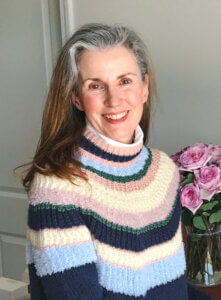 Blog | Facebook | Twitter | Instagram
Catherine started The Gilmore Guide to Books over 6 years ago after wrapping up a career as a corporate librarian. She loves books and reading (surprise!) and currently lives in Ann Arbor, MI.
Next Episode
In two weeks, on March 23, Barbara Feinman Todd, author of Pretend I'm Not Here, will be on the podcast for a behind-the-scenes chat about ghostwriting.
Support the Podcast
Support on Patreon
When you support the podcast on Patreon for $5/month, get bonus podcast episodes and other goodies!
Share
If you like the podcast, I'd love for you to share it with your reader friends…in real life and on social media (there's easy share buttons at the bottom of this post!).
Subscribe


…wherever you listen to podcasts, so new episodes will appear in your feed as soon as they're released.

Rate and Review
Search for "Sarah's Bookshelves" in Apple Podcasts…or wherever you listen to podcasts!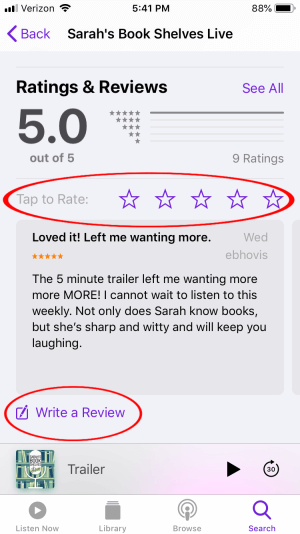 Pin this post…