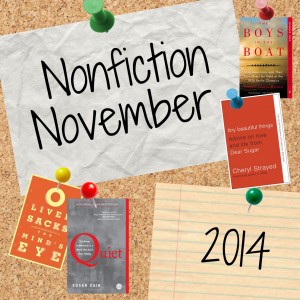 This post is part of Nonfiction November hosted by Katie at Doing Dewey, Kim at Sophisticated Dorkiness, Becca at I'm Lost in Books, and Leslie at Regular Rumination.
Nonfiction – Memoir

Released June, 2014
274 Pages
Bottom Line: Read it.
Affiliate Link: Buy from Amazon

Source: Purchased

Plot Summary of

My Salinger Year

:
The story of Rakoff's experience as a young woman in the 90's living in NYC and working at the literary agency representing reclusive legend, J.D. Salinger. 
My Thoughts on

My Salinger Year

:
Though the title mentions Salinger, he is not the main focus of My Salinger Year. Sure, he makes appearances, but this is more of a coming of age story about a young girl trying to make it in NYC and a company trying to adjust to the modern world. You do not have to be a Salinger fan to enjoy this book. I was pleasantly surprised by this and ended up loving this book…enough to push it onto my upcoming Best Books of 2014 List and my Holiday Gift Guide!
At first, I kept thinking Rakoff was living in the 1950's rather than the 1990's. The smoking in the office, the typewriters (and accompanying lack of computers), and the huge Dictaphone contraptions all confounded me until I read this quote from Joanna's friend, Jenny…
But really the Agency is like something out of Dickens. You step inside, and it's like you've time traveled back a hundred years.
Then, I realized I was supposed to have been Jedi mind tricked into thinking I was watching an episode of "Mad Men"! However, this element was the source of a lot of the story's humor and eccentricity.
What really made me love My Salinger Year was Rakoff's tone and writing style (hence the number of quotes in this review!). She writes with humor, irony, and an appreciation for the ridiculous.
On her increasingly irrelevant boss:

My boss, as far as I knew, had no children, and she – like a certain breed of adult – appeared to have never been a child herself, but rather to have materialized on earth fully formed, in a taupe-hued pantsuit, cigarette in hand.
I especially loved her commentary on Don, her Communist boyfriend who tries so hard to be "authentic" that he ends up just being ridiculous.
He surrounded himself with fools – the broken, the failed or failing, the sad and confused – so that he might be their king. Which, obviously, made him nothing but the king of fools.

Don had refused to come home with me for my grandmother's birthday, citing his opposition to the tradition, but – here again – I suspected that this alleged ideological stance might be simply a smoke screen for either poverty or cheapness, that he didn't want to spend the money on a bus ticket, not to mention a gift for my grandmother.
Though I'm not a devoted Salinger fan and the only thing of his that I've read is The Catcher in the Rye (and I've only read that once…in high school), I did enjoy his eccentricity and found the humor in all the intricate rules that surrounded the Agency's "handling" of him. I also enjoyed learning some of the history behind his writing and am now more likely to reread The Catcher in the Rye at some point.
Rakoff's writing and the coming-of-age element to her story made this one of my favorite books of the year and my favorite memoir of the year.