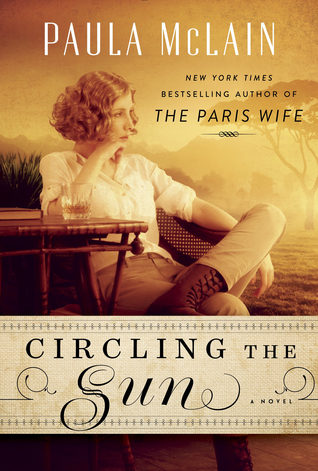 Historical Fiction
Released July 28, 2015
384 Pages
Bottom Line: Read it.
Affiliate Link: Buy from Amazon

Source:  eGalley provided by the publisher via NetGalley

Headline
A pleasant surprise for me! Marked by McLain's gorgeous writing and one real-life, badass lady flouting convention in all kinds of ways, Circling the Sun would make a great book club selection.
Plot Summary
A fictionalized story of the real Beryl Markham, a British woman raised on a horse farm in 1920's Kenya, who went on to break the glass ceiling for women in horse training and aviation.
Why I Read It
Fiction based on real people is one of my favorite book categories and I loved McLain's last novel, The Paris Wife, told from the perspective of Hadley Hemingway (Ernest's first wife).
Major Themes
Adventurous women, women pushing societal boundaries, slut shaming, marriage, 1920's British Colonial society
What I Liked
I have to admit…I wasn't as excited by the premise of this book as I was by McLain's The Paris Wife. But, I ended up being pleasantly surprised!

Beryl and her fascinating upbringing, unconventional life choices, and general badass ways are what really drive this story.

She grew up as a wild and adventurous tomboy on her father's Kenyan horse farm. A Baron and Baroness living in a mud hut were her nearest neighbors, she trained to be a tribal warrior with her best childhood friend, and tangled with a friend's pet lion. She reminded me a bit of Scout Finch in her determination, from a very young age, to hang with the boys.

As an adult, Beryl is driven to succeed in traditionally male-dominated fields (horse training and aviation). She accomplished so much as it is, but I wonder how high she could have climbed had she lived at a time when society was more open to career oriented women.

I loved McLain's portrayal of upper class colonial society in Kenya…filled with wealthy characters with urges to be adventurous and, often, to behave badly.

McLain's language flows beautifully, making the story incredibly readable. So much so that, in the beginning, I got nervous that this was going to be one of those "beautiful, but boring" books…but, Beryl's story makes "boring" an impossibility.
What I Didn't Like
Beryl was known for behaving in ways that sparked the society rumor mill (including lashing out against the constraints of marriage) and, at times, she paid for it with her career. This loop went around and around in the course of the story and eventually began to feel a bit tired.

One of my favorite parts of fiction based on real events or people is the "Afterward" that lays out where the author was true to real events and where he/she took liberties for the sake of the story….and, this was missing from

Circling the Sun

.
A Defining Quote
You can take a cub from the savannah like they have, and raise it like a pet if you like. In a cage, as some do, or running free like Paddy. You can feed it fresh meat so it never learns to hunt and brush its coat so it carries a human smell wherever it goes – but know that what you've done is twist something natural into something else. And you can never trust an unnatural thing. You don't know what it is, and it's baffled too.
Good for People Who Like…
Fiction based on real people/events, badass women, the horsey world, wealthy people behaving badly.
Other Books You May Like
Saint Mazie by Jami Attenberg
Seabiscuit by Laura Hillenbrand
The Paris Wife by Paula McLain
Z: A Novel of Zelda Fitzgerald by Therese Anne Fowler