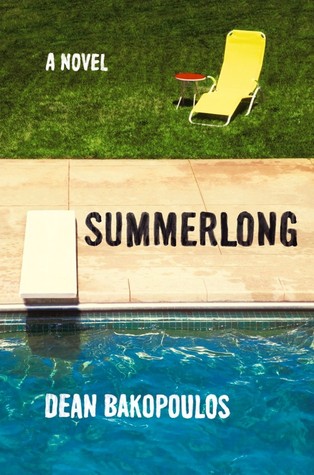 Fiction
Released June 16, 2015
320 Pages
Bottom Line: Read it.
Affiliate Link: Buy from Amazon

Source: Purchased
Headline
Summerlong was a surprise hit for me…it's darker and edgier than the cover would lead you to believe and is going on my 2015 Summer Reading List.
Plot Summary
During one particularly hot summer in Grinnell, Iowa, Don and Claire Lowry find that their marriage isn't as strong as they thought; their discontent and the heat driving them to act uncharacteristically.
Why I Read It
The blurb sounded a bit like the dark side of "Desperate Housewives" and Tara at Running N Reading had good things to say about it.
Major Themes
Marriage, mid-life crises, general discontent, maintaining your identity through motherhood
What I Liked Loved
The very beginning of this one was just okay, but I liked it more and more the farther I read.

You can really feel this book…the simmering suburban discontent, everyone having an itch that's just waiting to be scratched, the restlessness that comes with sweltering summer days. It's like a sea of smoldering embers threatening to ignite at the slightest catalyst.

The cast of characters is delightfully eclectic and everyone is dealing with their own issues…the unhappily married housewife (Claire), the failing and desperate real estate agent (Don), the grieving lover (ABC), and the actor returning home to tie up loose ends (Charlie). And, best of all….

Ruth Manetti (she deserves her own bullet)! This eighty-some year old pothead gives the best life advice…I decided she needs to be my shrink!
"You see?" Ruth says. "This is why I like you more than anybody else. When I give you the straight dope, you don't reel off some optimistic bullshit."
Bakopoulos nails the issue of women losing their identities during motherhood. I highlighted so many passages pertaining to this issue that made me think "yes, that's exactly how it is." And, I'm even more impressed given he's male!
What I Didn't Like
The ending fizzled a bit and partially revolved around the storyline I was the least invested in. But, it didn't bother me that much because this book was about the journey and I enjoyed that immensely.
A Defining Quote
"Something happened to me," Claire says. "I don't know what. I stopped wanting things." "And now?" he says. "Now," she says, "I just want."
Good for People Who Like…
Books set in the Midwest, books about marriage, books about motherhood, gorgeous writing, quirky characters, small town life
Other Books You May Like
Shotgun Lovesongs by Nickolas Butler
The Love Affairs of Nathaniel P. by Adelle Waldman
The Wife by Meg Wolitzer