When I first started Sarah's Book Shelves, one of my goals was to write concise book reviews (my first reviews were essentially minis…just 4-5 sentences) and I got away from that as time went by. Recently, I've been thinking about how my "traditional" book reviews aren't as popular as other types of posts and I've heard similar things from other bloggers. So, I thought it was time to try a different type of "review," one that, while not 4-5 sentences, comes closer to my original intent. Obviously, I'd love to hear your feedback in the comments!
Fiction – Southern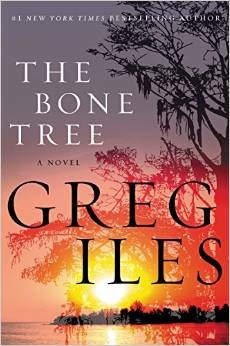 Released April 21, 2015
816 Pages
Bottom Line: Read it.
Affiliate Link: Buy from Amazon

Source: eGalley provided by the publisher via Edelweiss
Headline
The Bone Tree didn't quite live up to the first book in the series (Natchez Burning, one of my Best Books of 2014), but was a solid sequel nonetheless.
Plot Summary
Picking up right where Natchez Burning left off, former prosecutor and current Mayor of Natchez Penn Cage and his newspaper publisher fiancee (Caitlin Masters) continue their pursuit of Dr. Tom Cage (Penn's fugitive father) and the KKK offshoot Double Eagles group, now with the knowledge that its leader isn't who they thought it was.
Major Themes
1960's Civil Rights Era, Ku Klux Klan and offshoot groups, retribution, race, post-Katrina New Orleans, the Mafia, corruption
What I Liked
Sequels make me squeamish. It's hard to strike just the right balance between including enough of what attracted the reader to the original book in the first place and taking the sequel in a fresh direction. While Iles probably went a bit overboard on the "what was attractive about

Natchez Burning

" end, he definitely took the story to another level.
So much happened in

Natchez Burning

that I wondered where

The Bone Tree

(and an upcoming third book in the series) could possibly go. But, the focal points of all the big action in

Natchez Burning

are really just smaller pieces in a much larger puzzle.
I'm a sucker for conspiracy theories, even if proposed fictionally. It's fun to think apply these "what if" scenarios to real life and Iles lays out a great one in

The Bone Tree

. 
What I Didn't Like
While

Natchez Burning

's 800 pages flew by, I really felt

The Bone Tree

's length. At times, Iles seemed to rehash the same points over and over.
The wow factor stemming from

Natchez Burning

's originality was missing for me here. Probably because I'd seen it before (duh!).
A Defining Quote
You know, the truth isn't hard to find, if you're willing to get your hands dirty. Truth waits just under the surface for any man brave enough to scrape a little dirt away. But most people are too afraid or too lazy to get dirty. They're afraid to ask the right questions. The hard questions.
Fascinating Fact
The conspiracy theory that plays a large role in The Bone Tree is similar to a real-life one put forth in a 2013 nonfiction book.
Special Note
While the Prologue provides a comprehensive overview of the main takeaways from Natchez Burning (thank God, since my book memory is horrible!), you should probably read that book before tackling The Bone Tree.
Good for People Who Like…
Southern fiction, page turners, thrillers, conspiracy theories, Civil Rights history, reading about the Mafia, fictional story lines with real historical figures
Other Books You May Like
11/22/63 by Stephen King
Natchez Burning by Greg Iles