This post is part of fellow book blogger, Beth Fish Reads', weekly meme (a "community" blog post, for all those non-bloggers out there) called Weekend Cooking.
Surprise, surprise, everyone, it's back to seafood this week! You know I just couldn't stay away for too long! For months now, I've been eyeing the fresh calamari (aka squid) from the seafood man at our local farmer's market. I'd never tried cooking squid myself and had been itching to give it a whirl.
Since this was our first go around, we stuck with the bodies (we'll try the tentacles next time) and chose a very simple recipe. My husband actually found this recipe and made a version without the parsley for lunch and I made them again with the parsley for dinner. Both were delicious – light and very easy to make! The parsley does add a nice freshness, but my husband got a light caramelization that was better than in my version (shown below).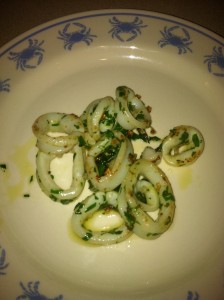 Sauteed Calamari with Parsley and Garlic
Link to recipe on Chow.com (originally adapted from "Bromberg Bros. Blue Ribbon Cookbook" by Bruce Bromberg, Eric Bromberg, and Melissa Clark)
Ingredients

1 pound squid, cleaned, bodies cut into 3/4-inch-thick rings, tentacles left whole (we just used the bodies)
1 tablespoon extra-virgin olive oil
2 tablespoons unsalted butter (1/4 stick)
2 teaspoons finely chopped garlic
1 tablespoon coarsely chopped Italian parsley leaves
Salt
Freshly ground black pepper
1 lemon, cut into wedges
Instructions

Pat squid dry with a paper towel.
Heat oil in a large frying pan over high heat until smoking (make sure pan is REALLY hot to get a nice caramelization). Carefully add squid in a single layer, then add butter, garlic, and parsley (I added the parsley at the very end instead). Season with salt and pepper. Cook, tossing frequently, until squid is opaque and cooked through, about 1 to 2 minutes (do not overcook). Season with additional salt and pepper, and serve with lemon wedges.