A big thank you to TLC Book Tours for providing me with an electronic copy of this book and for inviting me to be a host on this tour.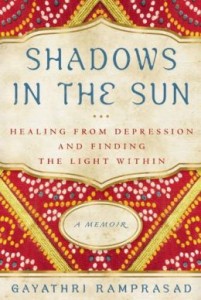 Nonfiction – Memoir
Released February, 2014
240 Pages
Bottom Line: Read it…if you are interested in depression / mental illness.
Affiliate Link: Buy from Amazon
Plot Summary of

Shadows in the Sun

:
The story of "Gayu's" (as she's called) struggle with depression as a teenager in Bangalore, India and her fight to manage her illness upon moving to America with her husband.
My Thoughts on

Shadows in the Sun

:
Gayu has an idyllic childhood as the oldest daughter in a respected Indian family. Her parents are fairly Americanized (especially her father) and believe that Gayu should focus on her education in preparation for emigrating to America one day. However, that doesn't mean that her family has moved beyond many deeply held Indian beliefs – and this tug of war between cultures is part of what made Shadows in the Sun an interesting memoir.
I loved learning about the differences in Indian and American culture – and there are many! Indians believe in arranged marriage (Gayu's marriage is arranged), a patriarchal household and society (women's role at home is to serve the men – the women even serve the men dinner and only eat their own dinner once the men have finished!), dependence on extended family, and, most importantly for Gayu, and that mental illness brings shame and dishonor on the family. Gayu, like her father, is independent and "Americanized" and is constantly trying to be a "good daughter" according to both sets of cultural norms. This tension is part of what exacerbates her depression.
In addition to the cultural differences, I loved seeing America through Gayu's eyes when she first arrived from India. She shares her childlike wonder at mundane things like quiet neighborhoods, escalators, and orderly parking garages. 
I liked reading about Gayu's recovery from depression, particularly her focus on overall wellness to manage her disease after drugs proved unsuccessful. And, her focus on general wellness is a good guide for both those living with and without depression.
With this memoir, Ramprasad increased awareness of the Indian attitude toward mental illness and how damaging it is to those suffering with it. In India, mental illness is rarely acknowledged, much less treated appropriately. Many families resort to "prayer" and ancient rituals to "cure" a family member's depression – and that's if the family acknowledges the depression at all. 
While I wouldn't recommend Shadows in the Sun to everyone, it's a hopeful book for those suffering from depression (and their loved ones), particularly those who are not responding to drugs. 
You May Also Like:
Brain on Fire by Susannah Cahalan