Fiction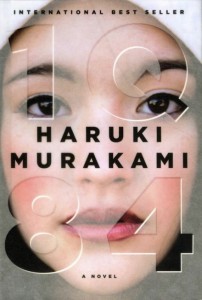 Released October, 2011
946 Pages
Bottom Line: Read it.
Affiliate Link: Buy from Amazon

Source: Purchased
Plot Summary of

1Q84

:
Set in Japan, 1Q84 follows the parallel journeys of Aomame, a female assassin, and Tengo, an aspiring writer, as they enter an alternate reality (the year 1Q84) to solve the mystery of a religious cult and the myth of the "Little People".
My Thoughts on

1Q84

:
This is a "trust me" book. I initially thought the description of 1Q84 sounded ridiculous, but I gave it a shot anyway and am so glad I did!  
I loved the main characters and was dying to figure out the mystery behind the "Little People". 1Q84 is long (it's on my Time to Kill List) and complicated, but is a beautiful story that I couldn't put it down.
I thought it timely to share my thoughts on a book I read a few years ago because the English translation of Murakami's latest novel, Colorless Tsukuru Tazaki and His Years of Pilgrimage, is coming out on August 12. And, the best part…it's only 400 pages…practically a short story compared to 1Q84!