One of my favorite nonfiction topics is eccentric people…and they are especially prevalent in the world of entrepreneurship. Specifically, the "billionaire entrepreneurs" category seems to have an abnormally large concentration of eccentric personalities. Mark Zuckerberg apparently "only eats meat from pigs, goats, and chickens that he kills himself". Howard Hughes apparently required his servants to "wrap his spoon handles in tissue paper and cellophane". And, H.L. Hunt (one of the "Big Four" Texas oil tycoons) apparently got his start in the oil business by "trading poker winnings for oil rights".
Why is this? Is it because they have money to figuratively light on fire (i.e. spend on weird things)? Does their success enable them not to fear being judged? Or, are naturally eccentric people the ones coming up with the breakthrough ideas that go on to become billion dollar businesses?
Here are three great books featuring eccentric (and billionaire) entrepreneurs…
The Great Beanie Baby Bubble by Zac Bissonnette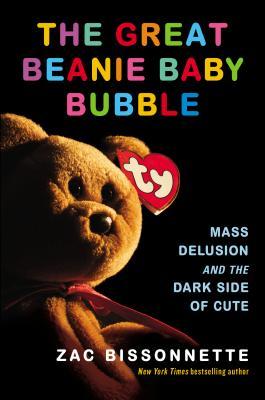 Nonfiction – Business (Released March 3, 2015)
274 Pages
Affiliate Link: Buy from Amazon

Source: Purchased

Plot Summary:
An in depth look at Ty Warner and the story of the mid-1990's speculative bubble surrounding his Beanie Babies…and its subsequent crash.
My Thoughts:
I was in college during the height of the Beanie Baby craze (1996-1998), so I was fairly unaware of exactly what "craze" meant in relation to these cuddly little creatures. I obviously knew they were popular, but did I know that adult collectors were "investing" in $5 stuffed animals as if they were stocks? Absolutely not…because that would be really weird, improbable, and somewhat creepy! The Great Beanie Baby Bubble analyzes the how and why…and the who behind it all (Ty Founder and CEO, Ty Warner). It's a lesson in the concept of scarcity and irrational exuberance, human behavior (particularly the herd mentality), and speculative bubbles and their inevitable implosions. The book delivered on two characteristics that I think make for the most interesting nonfiction: bizarre trivia (one couple "allegedly bought Beanie Babies with forged checks, then sold them and used the proceeds to buy heroin") and eccentric personalities (at one point, Ty Warner drove a Rolls-Royce, wore a fur coat and top hat, and carried a cane…a bit Willy Wonka-ish, no?). If you're interested in off-the-wall cocktail party trivia, eccentric entrepreneurs, or one of the more bizarre examples of the classic economic principle of irrational exuberance, then The Great Beanie Baby Bubble is for you!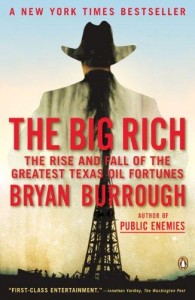 The Big Rich by Bryan Burrough
Nonfiction – Business (Released January, 2009)
508 Pages
Affiliate Link: Buy from Amazon

Source: Purchased
Plot Summary:
The story of the rise and fall of the "big four" Texas oil fortunes: H.L. Hunt, Clint Murchison, Roy Cullen, and Sid Richardson (Sid Bass' uncle).

My Thoughts:
The first 50 pages or so are heavy on the history of the oil industry – but, once you get past that, The Big Rich becomes juicy! These families are scandalous (H.L. Hunt was a bigamist juggling three families for much of his life) and eccentric, which make for great anecdotes. They also became heavily involved in politics and attempted to transfer the central White House influence from the Northeast to Texas – with humorous result.
The New New Thing by Michael Lewis

Nonfiction – Business (Released December, 1999)
273 Pages
Affiliate Link: Buy from Amazon

Source: Purchased
Plot Summary:
The story of the Internet age, as illustrated by Jim Clark, the eccentric entrepreneur behind Netscape, Silicon Graphics, and eventually, Healtheon.

My Thoughts:
Lewis' trademark ability to make the business world entertaining is on display in his depiction of the most breakthrough period in the history of Silicon Valley. But, what really made this book for me was Jim Clark. This guy is a totally bizarre egomaniac…in the most entertaining way! For example, he sank a gargantuan fortune into a computerized yacht (i.e. it can sail itself) and he spent ungodly amounts of time tinkering with it.