For those of you who have read this book, click here for my Spoiler Discussion. Because, let's face it, there's only so much I can say about this one without giving away WAY too much! 
For those who haven't read this one yet, there are no spoilers in this post.
Fiction – Thriller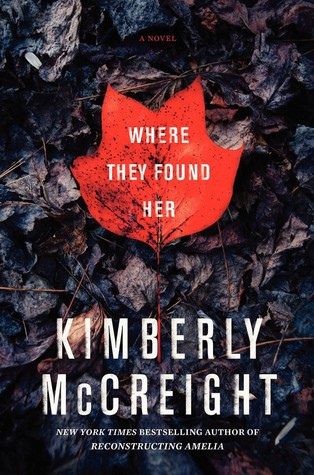 Released April 14, 2015
336 Pages
Bottom Line: Read it.
Affiliate Link: Buy from Amazon

Source: eGalley provided by the publisher via Edelweiss

Plot Summary
When the body of a newborn baby is found on the edge of the prestigious Ridgedale University campus, rookie journalist Molly Sanderson chases the story that will uncover the dark side of life in an upscale New Jersey college town.
My Thoughts
I loved McCreight's last thriller, Reconstructing Amelia, so I was excited to get my hands on Where They Found Her. Though this one didn't grab me from the first page, things picked up quickly enough and, by the last quarter, I couldn't put it down.
I'm going to keep this review light on details, as this is a plot-centric book and I don't want to spoil things for anyone!
The story opens with the discovery of a baby's body in a wooded area on the outskirts of prestigious Ridgedale University (I'm such a sucker for books set on college campuses!). Ridgedale is a mostly idyllic, predominantly upscale community centered around the University, so the discovery of any dead body, much less a baby's, is likely to send the residents into a tailspin. And, much of the action revolves around the long buried secrets of this seemingly idyllic community.
The story is told from multiple perspectives: Molly (the rookie journalist covering the story of the baby), Sandy (one of the few underprivileged teens in Ridgedale), Jenna (Sandy's completely messed up mother), Barbara (the police chief's wife and the mother of Molly's daughter's classmate), and various journals and transcripts. It's a lot to keep track of at first, but becomes much easier as the meaning behind the inclusion of each character becomes clearer.
My favorite thing about this book is that I made multiple guesses about the outcome of the story and was wrong about every single one of them, which is exactly what I want out of a good thriller. In my spoiler discussion, I threw all my wrong guesses out there for discussion.
Where They Found Her is an edge of your seat page turner and a great selection for people who like books set on college campuses. It will also go on my 2015 Summer Reading List (click here for last year's list).
You May Also Like:
Reconstructing Amelia by Kimberly McCreight
The Fever by Megan Abbott
The Girl on the Train by Paula Hawkins
The Unraveling of Mercy Louis by Keija Parssinen
CLICK HERE FOR SPOILER DISCUSSION