Fiction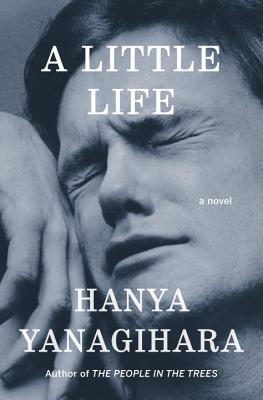 Released March 10, 2015
737 Pages
Bottom Line: Read it.
Affiliate Link: Buy from Amazon

Source: eGalley provided by the publisher via NetGalley

Plot Summary
Spanning 30 years, the story of four male friends (Willem, J.B., Malcolm, and Jude) trying to make their way in New York City while dealing with the implications of Jude's tragic childhood.
My Thoughts
I confess that I had no idea what I was getting into when I started A Little Life. I basically thought it was going to be a male version of The Interestings. And, there are similarities, but A Little Life is much, much darker. It's disturbing, harrowing, relentless, and powerful, but also portrays a strong, hopeful version of friendship. The writing is absolutely gorgeous (future "Quotable Books" post?!) and it will most likely end up on my Best Books of 2015 list come December (click here for last year's list).
There is nothing little about A Little Life. In fact, it's such a sprawling book that I had trouble distilling my thoughts into a coherent review. Yanagihara threw the kitchen sink at this thing, but she made everything work together seamlessly. To varying degrees, she addressed class, race, sexuality, disability, life purpose / career, secrets, mental issues, and abuse…all overlaid on a foundation of enduring friendship. And, she made all this seem harmoniously complex instead of frustratingly complicated.
The lifeblood of this novel is the characters. The four friends met in college, come from disparate backgrounds, and have varying life ambitions. The beginning of the book focuses on introducing each character in bits and pieces (hint: keep a list of key background information on each character as you learn it, because it's hard to keep them straight initially). As the story goes on, Jude becomes the focal point. He's kind, heartbreaking, proud, tough, and maddening. He's a character unlike any other I've encountered in fiction and will stick with me for a long time.
I realize that this review is a bit light on plot details and that's intentional. Part of the reading experience, and this book truly is an experience, is peeling back the layers of the characters and gradually understanding what's shaped who they are. Rather, I think the best way to convey the essence of this book is to share the author's thoughts on her writing experience…because I sort of felt the same way reading the book.
For one thing, the experience of writing this book was so depleting, so exhausting, so unexpectedly life-altering—as pretentious as that sounds—that I'm still extricating myself from its universe. – Hanya Yanagihara, Slate Magazine
Well, I'm still extricating myself and I finished it almost a week ago! A Little Life so consumed me that I had to follow it with a "recovery book" before reading anything else remotely serious.
As you can probably guess, A Little Life is definitely not for everyone. It's a great choice for people who appreciate consuming, emotional reading experiences (me!). But, I would avoid it if you prefer the lighter, happier stuff. In addition to being a possible contender for my Best Books of 2015 list, A Little Life is also going on my Time to Kill List.
You May Also Like:
An Untamed State by Roxane Gay
The Interestings by Meg Wolitzer