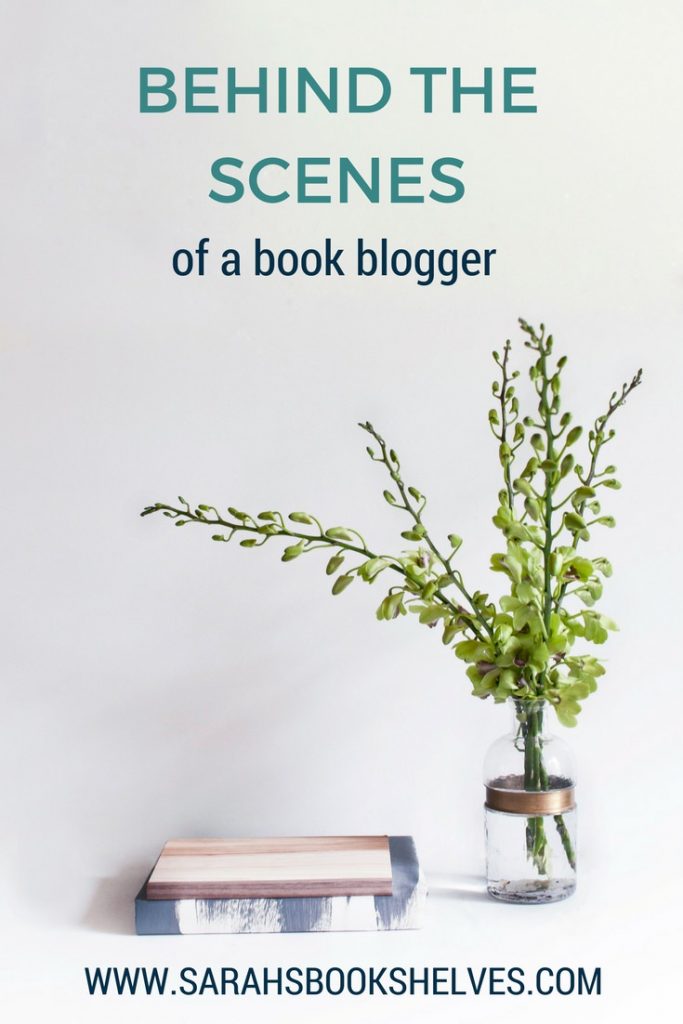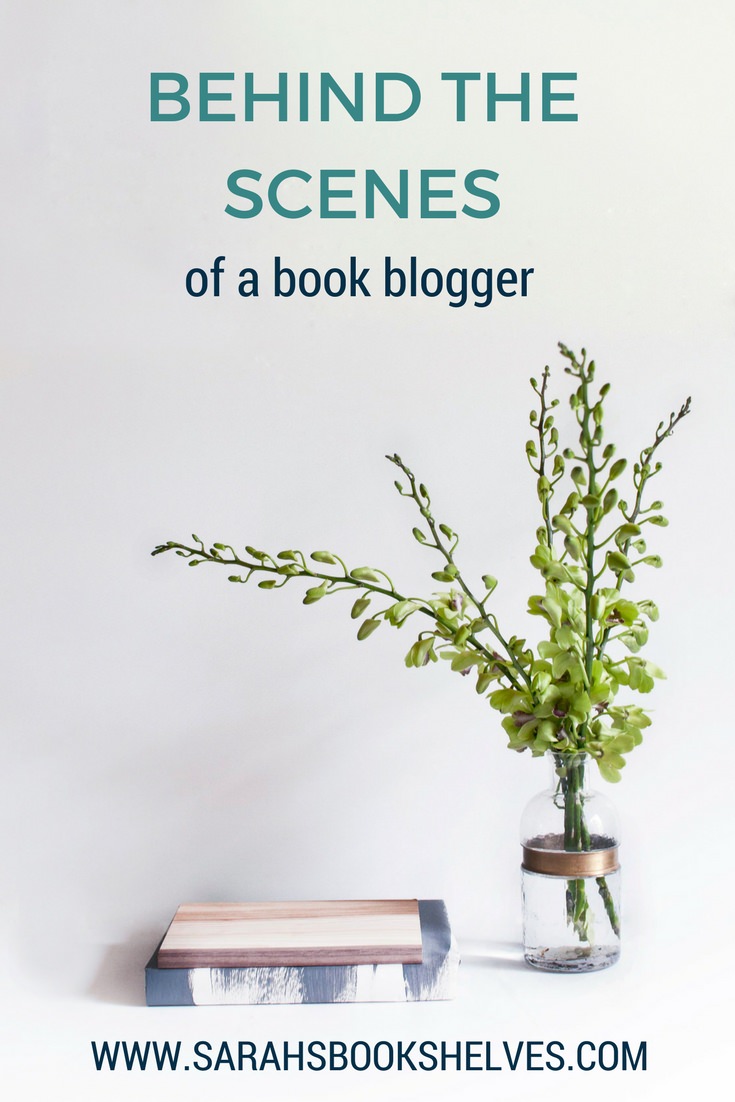 When I first started Sarah's Book Shelves, can you believe I'd never read a single book blog? By the time I started reading other book blogs (well after I started Sarah's Book Shelves), I still didn't know what terms like "TBR", "ARC", and "galley" meant. I resorted to Google to figure it out because I also didn't have any book blogger friends yet to ask!
Earlier this year, I learned that over 70% of my blog readers are not bloggers themselves. And, you all may be a lot more savvy with all these blogger terms than I was, but I thought a behind-the-scenes glimpse into the lingo many bloggers use and how many bloggers run their blogs just to make sure no one is as confused as I was might be in order!
This post contains affiliate links (plus: here's your Amazon Smile-specific affiliate link
).
Terms
Affiliate Links
Many bloggers participate in various affiliate programs (Amazon is the most popular one), which means that the blogger will get a small (and, when I say small, I actually mean minuscule!!) commission when you make a purchase by clicking on one of the blogger's affiliate links. This a great way for you to support your favorite bloggers at no cost to you!
ARC (aka Advanced Reader Copy) or Galley
Publishers send bloggers copies of upcoming releases, so bloggers can read and review the books prior to publication. These are called ARC's. Bloggers are not required to review every ARC they receive, but publishers do pay attention to whether or not bloggers actually publish reviews…and publishers can decline to send a blogger future ARCs due to a poor track record. Bloggers are also not allowed to sell these ARCs (although it happens constantly!).
Auto-Buy Author
When you will read every single thing a certain author writes, no matter what. Some of my auto-buy authors are Meg Wolitzer, Anna Quindlen, Ann Patchett, John Irving, and Pat Conroy.
Backlist
A book that was published before the current year. Let me tell ya…I'm TERRIBLE about fitting backlist books in amid all the shiny new releases that grab my attention. I promise myself every year that I'll read more backlist and I rarely keep that promise.
DNF (aka Did Not Finish)
When you quit reading a book before you've finished it. People tend to either be DNF'ers or not. I used to finish every book I started, even if I didn't like it. Then, I saw the light. I'm now an unapologetic DNF'er. There's just not enough time to stick with a book I hate!
Edelweiss and Netgalley
Two websites where "professional readers" (e.g. book bloggers, book sellers, media, etc) can request ARCs (see above) they're interested in from publishers. Publishers either approve or decline the blogger's request. If approved, the blogger can download an e-galley. This is how I get most of my ARCs.
Free Range Reading
Reading whatever you want, whenever you want. Many bloggers (including me) choose what they read based on the ARCs they have and when those books will be published. If you're not a book blogger, all your reading is probably free range reading…and, I'm a little bit jealous of you! However, I do set aside the end of November and all of December to do some free range reading.
Reading Hangover / Recovery Book
When you read a book that blows your mind so much that nothing you read next could possible live up to it. My strategy to recover from reading hangovers is to choose your follow-up book (aka "recovery book") wisely. I usually pick something that's completely different from the book that blew my mind…so, any comparison would be apples to oranges. See my Alcohol & Advil posts for this in action!
Reading Slump
When you've read a couple books in a row that you haven't liked all that much. I dread these and can feel them coming on sometimes!
Reader Questions
I asked the members of my Superstars Facebook Group (support Sarah's Book Shelves on Patreon to get access to the Facebook Group) to share their burning questions about the life of a book blogger.
Q: I'd like to know what you like best about reviewing and blogging about books and what you like least. I'd also like to know how long you've been doing this and what, if any, changes you've seen as time has progressed.
A: What I like best…definitely all the reading! I love recommending books to people. I love being involved in the book world. I love all the people I've "met" through blogging and having these people in my life that love to talk books just as much as I do. I love the excitement of figuring out what new books I'm interested in reading and finally starting a book I've been anxiously awaiting. And, I love the feeling of having something of my own amid all the mothering.
What I like least…making graphics! Yes, really. My design eye is terrible and I'm never happy with how my graphics look…or how long it takes me to make them. If I could hire someone to handle certain blog-related tasks, graphics would be at the top of the list. Also, social media. Sometimes I wish I was a millennial so it came more easily to me. Instagram is especially tough since I read mostly on a Kindle…so, I don't have lots of beautiful book covers lying around to photograph. 
How long I've been doing this and what's changed…I started this blog 5 years ago and never in a million years would've thought I'd still be at it and enjoying it. The single biggest change I've seen is the rise of #bookstagram and book bloggers whose blogs are almost secondary to their Instagram accounts. I've also seen many book bloggers come and go. Many of my favorite blogs from a few years ago either don't exist anymore or are now inactive. And, many of my current favorite book blogs didn't exist a few years ago.
Q: I've heard some bloggers say they won't review a book on their blog that they didn't like or the ones they DNF. So all their books are typically 4 star reviews with an occasional 3 or 5 star one. Others will post negative reviews. Not ones that trash either the book or the author but honest. Some bloggers I've learned not to trust their ratings because I don't see how they can 5 star love every book they read. As a reader I learn as much if not more about negative reviews than positive ones. Does getting "free" books influence your opinion at all? Does having a blog and wanting a good relationship with publishers and authors skew your rating more to the positive side? Even unconsciously a little bit?
A: This is such a great question…lots to unpack here. I'm going to take it in parts.
Bloggers Not Posting Negative Reviews
When I first started blogging (and reading other people's book blogs), I was so surprised to find out that some bloggers choose to say nothing about books they didn't like or didn't finish. Now that I've been around awhile, I've discovered that there are two general camps…bloggers that do post critical reviews and bloggers that only talk about books they like.
I've heard a couple rationales for not posting critical reviews:
Authors work so hard on their books that bloggers don't want to diminish the authors' effort.

Bloggers are concerned that their readers will see a book on their blogs and not remember what the blogger actually said about it. For example, a reader is browsing in a bookstore and sees a book she saw mentioned on my blog. All she thinks is "Oh, I saw that on Sarah's Book Shelves," but doesn't remember that I actually didn't like that book and wouldn't recommend it.
I'm sure there are some bloggers that choose not to post critical reviews just to keep publishers happy…ensuring they continue to get ARCs. But, I don't think I've ever actually heard a blogger admit to it.
I always share my honest thoughts about the books I read, positive and/or negative, and I also share my DNFs in my Monday update posts. I always share my feedback with publishers and, so far, it has not affected my ability to get ARCs. I will say that I request most of my ARCs from Netgalley or Edelweiss (see above), so I'm sort of dealing with a faceless website. The very few times I've requested ARCs directly from actual people at publishing houses, I did feel more guilt posting a critical review. I haven't requested a book directly from a publisher's representative in almost two years because I didn't like that feeling.
Skewed Ratings
My ratings are absolutely skewed. But, not because of relationships with publishers. My ratings are skewed high because I DNF a lot of books. I rarely finish a book I'd rate less than 3 stars. I don't rate the books I DNF, so most of my ratings end up being 3 stars or above.
Q: I would like to know how you choose which books to recommend to a reader looking for something different/new to venture into. A new genre or author they might never have thought about – getting out of their comfort zone. 
A: I try to recommend books that would be considered "crossover" books (i.e. books in a certain genre that have very broad appeal…even to people that don't normally read that particular genre. A few examples: Station Eleven for dystopian/speculative fiction, Dark Matter for Sci-Fi, You Think It, I'll Say It for Short Stories, The Devil in the White City for Nonfiction, The Hate U Give and The Takedown for YA. I also try to get a sense of some common threads the reader gravitates to in his/her regular reading (e.g. characters he/she can relate to, plot vs. style, a vivid setting, dual timelines, etc) and apply that to some books outside of his/her comfort zone.
Q: I would like to know how you built your number of followers.
A: Oh Lord…I wish I knew! I also don't feel like I have that many followers. Especially when I look at other bloggers' Instagram accounts.
Over the past few years, I've been putting most of my energy into Pinterest and growing my email subscriber list. I also try to pay attention to SEO (search engine optimization – the tricks to getting your post ranked in Google's search results). I can't say if any of these helped me grow my followers more than others, but they're just where I've focused the most energy.
What other questions do you have about the behind the scenes of running a book blog? And, fellow bloggers, chime in on these questions in the comments section!