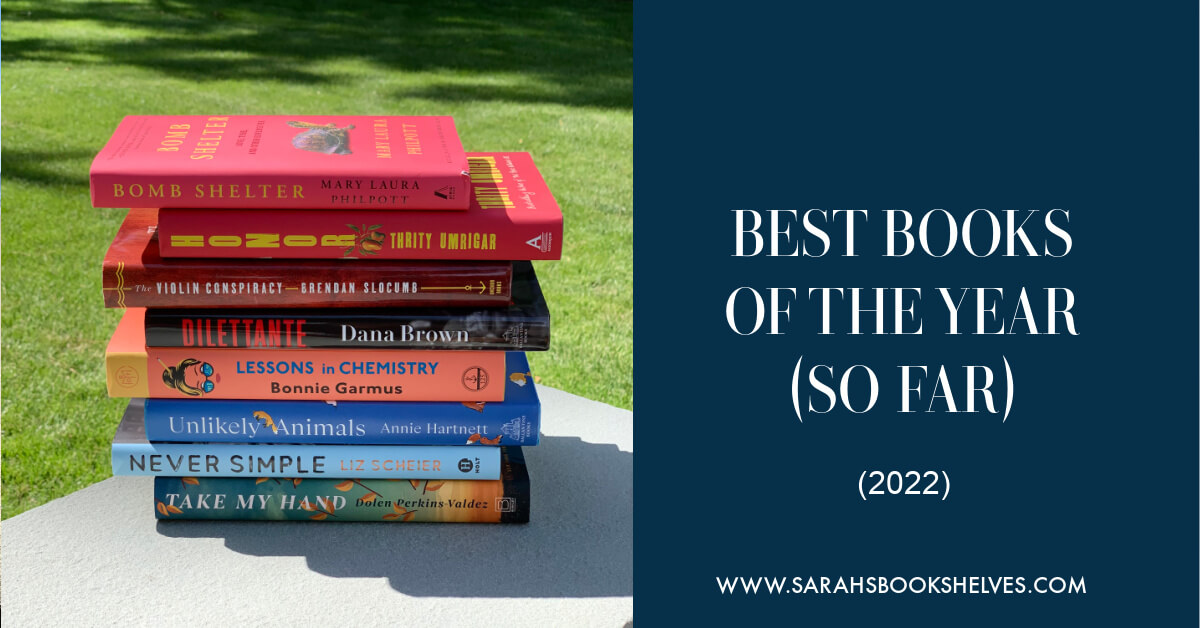 2022 has been an interesting reading year so far. Books that are outside of my usual taste have risen to the top and I sort of love it! I've had a lot going on in my personal life and I think that's driving the types of books that are appealing to me.
I've read 49 books (2 less than last year at this point) and liked 96% of the books I read (which is fantastic!). I've read seven 5 star books this year (the same as at this point last year). A couple of the books on this list rose above the others as my top books of 2021 so far (Lessons in Chemistry and Unlikely Animals). Both were fresh and unique and have a solid chance at ending up as my #1 book of 2022 at the end of the year.
This post contains affiliate links (plus: here's your Amazon Smile-specific affiliate link
), through which I make a small commission when you make a purchase (at no cost to you!).
My Best Books of 2022 So Far
Bomb Shelter
by Mary Laura Philpott (podcast episode)
Philpott's words about her son's health crisis were a comfort to me during my own family's health crisis (fortuitous timing) and Philpott's stories about her family and her childhood wrapped up with astute life wisdom makes me (as a middle aged Mom) feel seen. If you loved I Miss You When I Blink, you'll love Bomb Shelter as well.
Carrie Soto is Back 
by Taylor Jenkins Reid (out August 30)
The latest addition to the badass female athlete canon (Carrie is a tennis star) is my 4th 5 star book in a row by Taylor Jenkins Reid!
Corrections in Ink 
by Keri Blakinger
This year's mind-blowing memoir speaks to the broader issue of women in the prison system and conditions in the prison system in general. Plus, Keri was an elite figure skater in her youth (badass female athlete alert)!
Dilettante
by Dana Brown
This memoir by the former Assistant to Vanity Fair Editor Graydon Carter was my #1 pick for the Something Light / Fun category in my 2022 Summer Reading Guide.

Honor by Thrity Umrigar (podcast episode)
This story about religious extremism, women's rights, religious identity, and a complicated relationship with your homeland is a book you need to be emotionally ready for, but one you won't easily be able to forget.

Lessons in Chemistry by Bonnie Garmus (podcast episode)
This delightful, unintentionally funny debut historical fiction novel is in the running for my favorite book of 2022! Elizabeth Zott is one of the most memorable characters I've ever read…she's a woman pushing against the constraints of her time and says things many women think, but may not say out loud.

Never Simple 
by Liz Scheier
This mother / daughter memoir is my first 5 star memoir of 2022! Liz shares her experience growing up in 1990's Manhattan with her single mother, who can be magnetic and charming, but also struggled with mental illness that results in violence and a loose relationship with the truth.

Take My Hand by Dolen Perkins-Valdez (podcast episode)
This novel based on a true historical landmark in the battle for women's rights taught me about a heart-breaking piece of American history through characters that will stick with me for a long time.

The Violin Conspiracy by Brendan Slocumb
This debut story about a Black, classical violinist reads like a sports novel!

Unlikely Animals by Annie Hartnett
This quirky story contains multiple elements I usually detest in my reading (ghosts and magic), but Annie Hartnett delivered a delightful 5 star book that is the most unique thing I've read all year. It's in the running for my best book of 2022!

What are your favorite books of 2022 so far?
Pin this post…