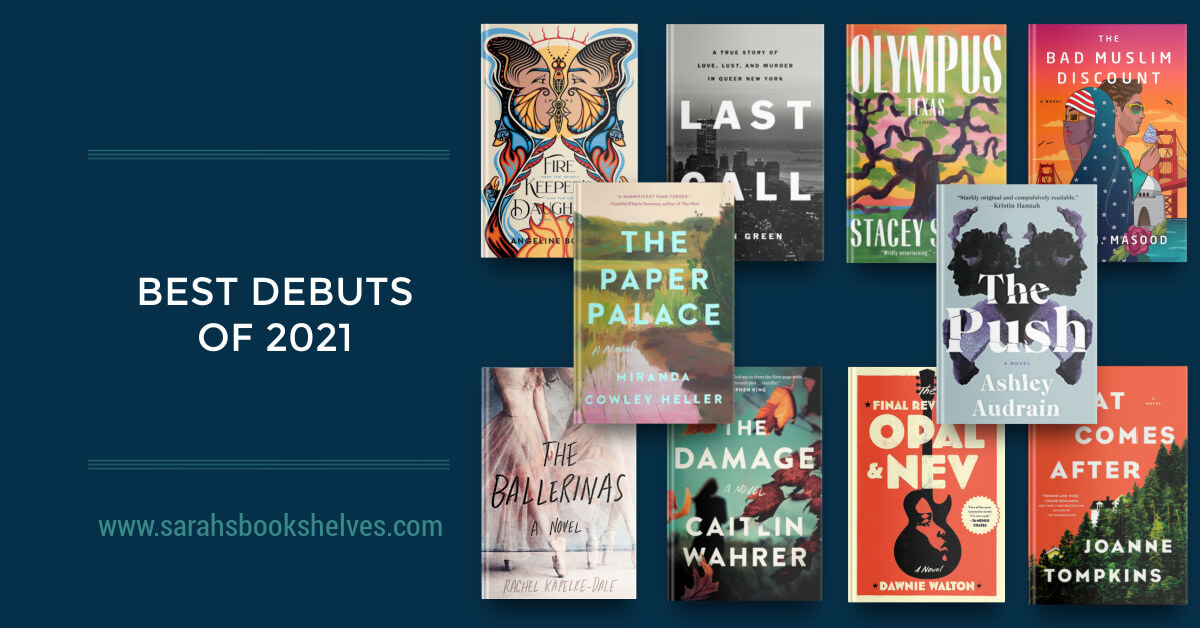 I love finding new debut authors to get excited about and that's generally reflected in my reading stats. I read LOTS of debuts this year (37 so far, 38% of my total reading), up from 28% of my reading last year. 84% of those were successful and you'll be seeing a number of these make an appearance on my overall Best Books of 2021 list coming later this week.
And, half of these debuts are by Sarah's Bookshelves Live podcast guests! I love having debut authors on the show and feel like it's part of my duty as a podcast host to give debut authors as much attention as possible.
This post contains affiliate links (plus: here's your Amazon Smile-specific affiliate link
), through which I make a small commission when you make a purchase (at no cost to you!).
My #1 Debuts of 2021
The Paper Palace by Miranda Cowley Heller
This debut family drama is one of my favorite books of 2021 and reminded me of family dramas like The Most Fun We Ever Had, Ask Again, Yes, and Commonwealth. It's a story about the complexities of infidelity and how a confluence of events can set your life on a course it may not have ended up on otherwise. And, the drastic impact that can have on what's possibly "meant to be." It's a character-driven novel that I flew through!
Buy from: Amazon
 | Bookshop.org | Libro.fm (Audio)

The Push by Ashley Audrain (my review)
This debut novel (which is one of my favorite books of the year so far!) is being marketed as a "page-turning psychological drama,", which I interpreted to mean psychological thriller…but, it's NOT that. It's a dark, emotionally intense, dysfunctional family story focused on motherhood. It's deeply unsettling and emotionally taut. It's not a book for everyone and it will be divisive, but I loved it. 5 stars!
Buy from: Amazon
 | Bookshop.org | Libro.fm (Audio)
The rest of the Best Debuts of 2021
Firekeeper's Daughter
by Angeline Boulley
This YA Reese's Book Club is a genre mash-up of a bit of romance, a bit of mystery, and some sports…all overlaid with Ojibwe (a Native American tribe) culture and customs. I loved Daunis as a female athlete protagonist (in a traditionally male sport!) and the healthy message this book shares for young girls (value yourself as you are). One of the best YA books I've ever read (and y'all know a YA hit is rare for me!) and a great pick for fans of Beartown and The Hate U Give.
Buy from: Amazon | Bookshop.org
 | Libro.fm (Audio)
Last Call: A True Story of Love, Lust, and Murder in Queer New York
by Elon Green
The story of the "Last Call Killer" who preyed on gay men in NYC in the 1990's is one of the best audiobooks I've listened to this year! It's part true crime / part social justice. I loved how Green addressed a broader issue through these particular crimes, giving this true crime story a purpose.
Buy from: Amazon | Bookshop.org | Libro.fm (Audio)
Olympus, Texas
 by Stacey Swann
This debut dysfunctional family story is a character-driven novel that kept me quickly turning the pages. It's deliciously scandalous with a plethora of dislikable characters. The story is rooted in Greek mythology, with each character corresponding to a Greek mythological figure, but the story stands on its own even without this tie-in.
Buy from: Amazon | Bookshop.org | Libro.fm (Audio)
The Bad Muslim Discount by Syed M. Masood
This debut novel is a deeply layered story of two families, the Muslim faith (and struggling with it), being an immigrant in the U.S., discrimination against Muslims following 9/11, and fighting for the life that will make you happy…told in an irreverently humorous voice. Masood tackled so much in this story, but it felt totally organic and not cluttered at all. The humor in this story is subtle, snarky, and made my chuckle (the way I like my humor).
Buy from: Amazon | Bookshop.org
| Libro.fm (Audio)
The Ballerinas by Rachel Kapelke-Dale
The Ballerinas is the book for you if you're looking for a book that delves into the ballet world, but Megan Abbott's The Turnout was a bit much for you. While ballet is by nature a patriarchal discipline, The Ballerinas is a feminist ballet book. I loved her exploration of the psychology of ballet, feelings around aging as a ballerina, and living in the shadow of a legendary parent. But, ultimately, this is a book about female friendship. Don't be fooled by the "Black Swan meets Luckiest Girl Alive" marketing, this is a character-driven story with some powerful plot drivers…not the fast-paced thriller you might be expecting.
Buy from: Amazon | Bookshop.org | Libro.fm (Audio)
The Damage by Caitlin Wahrer
This debut legal / crime drama about the aftermath of a violent male on male rape does not read like the thriller you might expect. The author was a lawyer in the domestic / child violence unit and her background shines through in her exploration of how navigating the U.S. legal system can be incredibly traumatic for already traumatized rape victims. This is also a story about the bonds of family and what family will do to protect one of their own. While this is not an #ownvoices novel, #ownvoices reviewers said she handled the male on male rape with care and seemed to have done her research. And, the publisher's blurb gives away a lot…I recommend going in blind (but knowing this will not be for the faint of heart).
Buy from: Amazon
 | Bookshop.org | Libro.fm
(Audio)
The Final Revival of Opal & Nev by Dawnie Walton
I love the oral history format and it was perfect for this fictional story about a provocative, iconic, 1970's rock duo, told by the journalist daughter of Opal & Nev's drummer. It's a darker, grittier Daisy Jones & the Six with a serious racial message. The beginning is a bit of a slow build, but stick with it. The build really picks up and I was quickly engrossed. Opal is a singular, memorable character. She's extremely provocative, yet also incredibly vulnerable. 
Buy from: Amazon
 | Bookshop.org | Libro.fm (Audio)
What Comes After by JoAnne Tompkins
Tompkins' background encountering trauma as a trial lawyer, judicial officer, and mediator inspired her to write this highly literary, but also propulsive debut novel exploring anger and grief, but also of growth and forgiveness. There is a suspenseful mystery, but it lies in the background of what is ultimately a character-driven story. And, reading this story felt a bit like going on a therapeutic journey without the actual therapy.
Buy from: Amazon | Bookshop.org
| Libro.fm (Audio)
Honorable Mentions
God Spare the Girls by Kelsey McKinney
This debut novel reminded me of The Book of Essie (but, a bit quieter) and The Dearly Beloved. Set in a small town in Northern Texas, this is a story about living for the sake of appearances vs. living authentically. It's a story of sisters and what happens when two sisters finally get to know each other for real. And, what happens to their faith with it's rocked by the exposure of their father's secrets…and the crumbling of the "perfect pastor's family" facade. Also, a great pick for book clubs!
Buy from: Amazon
 | Bookshop.org | Libro.fm (Audio)
Share Your Stuff. I'll Go First. by Laura Tremaine
Laura has now written a book inspired by her podcast. Her podcast episodes always cause me to reflect in some way…and often have me saying "Yes! That's exactly what I've been feeling!"…and her book did more of that in an even deeper way and more concrete way. I read it and worked through the exercises soon after the new year and it was an excellent exercise in self-reflection (which I'm normally terrible at taking the time to do).
Buy from: Amazon | Bookshop.org
| Libro.fm (Audio)
The View Was Exhausting by Mikaella Clements and Onjuli Datta
It's rare that a romance works for me, but The View Was Exhausting had the depth I love in a romance and avoided the cheesiness I usually don't. I loved the glamorous settings and the more serious issues of the price and machinery of fame, what it's like to be a woman of color in Hollywood, appearances vs. reality, and balancing a career with a personal life. It's a perfect slump buster and I flew through it in 2 days!
Buy from: Amazon | Bookshop.org
| Libro.fm (Audio)
What are your favorite debuts of 2021?
Pin this post…