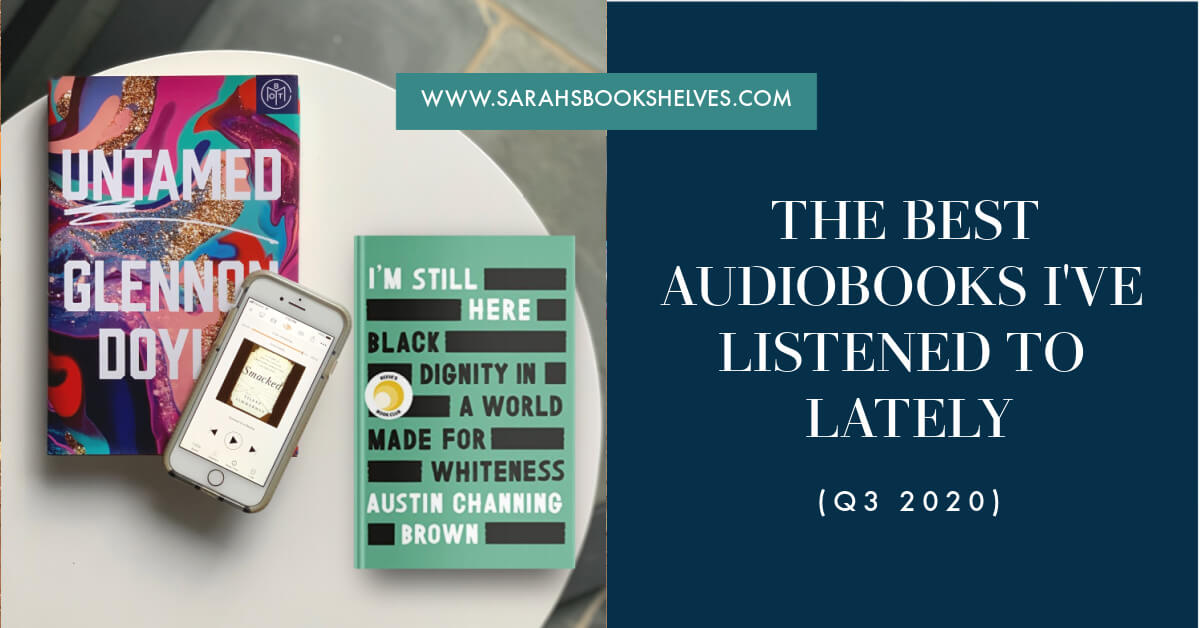 I normally do two of these posts per year, but I've been listening to so many audiobooks over the past few months, I thought I'd bring you a round-up early!
To put it in perspective, I've listened to 17 audiobooks this year already and my total for all of 2019 was 19. And, it's rare that I rate an audiobook 5 stars (I only had one 5 star audiobook last year), but I have three 5 star audiobooks on this list!
Libro.fm Special Offer
Use code SARAHSBOOKSHELVES to get 2 audiobooks for the price of 1 when you sign up for a new Libro.fm membership, or $14.99 up front for two audiobook credits! 
This post contains affiliate links (plus: here's your Amazon Smile-specific affiliate link
), through which I make a small commission when you make a purchase (at no cost to you!).
The Best Nonfiction Audiobooks I Listened to in 2020 (Second Half)
All Things Reconsidered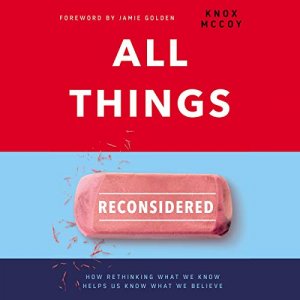 by Knox McCoy, Narrated by the author
Memoir / Essays, Released June 2, 2020
5 Hours, 9 Minutes
Affiliate Link: Buy from Amazon
Plot Summary: The co-host of The Popcast podcast shares topics he's changed his opinion on and how reconsidering our beliefs can help us grow as humans.
My Thoughts: The topic of reconsidering long-held beliefs feels especially pertinent right now and Knox McCoy applies this concept to topics ranging from the serious to the silly (because, of course, if you listen to the podcast). He talks about being an introvert and how it would be so much easier if "we" (because I'm one too) weren't because we could offer so much more to the world if we had the social energy for it. He covers rescheduling birthdays (I'm here for this…my son's birthday is December 29 and it's the worst!), participation trophies in kids sports and how every generation is mad at subsequent ones for "having it easier", and faith and the church not necessarily equating to each other. I do have to disagree with his take on naps and I don't think I'll be reconsidering that opinion!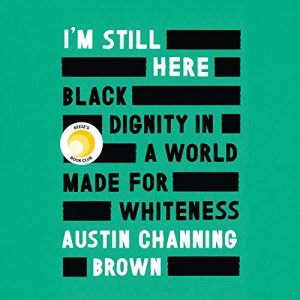 I'm Still Here: Black Dignity in a World Made for Whiteness
by Austin Channing Brown, Narrated by the author
Memoir / Essays, Released May 15, 2018
3 Hours, 54 Minutes
Affiliate Link: Buy from Amazon
Plot Summary: Brown's experience growing up Black in predominantly white organizations (school, church, etc) and how efforts to increase "diversity" at these types of organizations frequently fail.
My Thoughts: This is the book about racial justice that has made the most impact on me so far in my efforts to educate myself….5 stars! Brown talks about feeling like she's too white for Black people and too Black for white people and the exhaustion that comes along with never feeling like she can be herself. She talks about how uncomfortable it is to be thought of as the "Black expert" in predominantly white settings. And, she shares an eye-opening day in her life at the office…which was filled with micro-aggressions. This is the kind of stuff I want to be reading. It's teaching me about what regular life is like for Black people. But, I'm still just beginning to scratch the surface of understanding the day-to-day things Black people face in this world that I, as a white woman, do not ever face.
Smacked
by Eilene Zimmerman, Narrated by the author
Memoir, Released February 4, 2020
6 Hours, 36 Minutes
Affiliate Link: Buy from Amazon
Plot Summary: Zimmerman's story of discovering her very accomplished ex-husband (lawyer) was a drug addict.
My Thoughts: Smacked was a rare 5 star audiobook for me (I was putting podcasts aside to listen to it)! This is a heart-breaking story, especially the impact on Zimmerman's children. I've been reading a lot about the opioid epidemic this past year (ex: Dopesick and Long Bright River) and a big takeaway is that the wealthy and successful are not immune from addiction…and that's the crux of this story. Zimmerman ignored or explained them away a lot of warning signs  because it never occurred to her that someone like her ex-husband could be addicted to drugs. And, she admits this throughout the book. She also delves into the problems with high stress industries where drug problems get swept under the rug. Systemic issues within the culture of these industries put some employees in the position of turning to drugs to manage the stress and / or enable them to keep pushing through unsustainable expectations. A riveting cautionary tale.
Stamped: Racism, Anti-Racism, and You
by Jason Reynolds and Ibram X. Kendi, Narrated by the authors
Young Adult – History, Released March 10, 2020
4 Hours, 11 Minutes
Affiliate Link: Buy from Amazon
Plot Summary: A history of racism and anti-racism in America.
My Thoughts: This YA nonfiction focuses on the history of racist ideas in our country and is one of the books I'm using to educate myself on this topic. The audio is short and high energy and the compressed timeline made the progression of racist ideas from slavery to present day more powerful…highlighting how we haven't really come as far as we'd like to think. And, I think YA is a good way for me to consume history right now given my distracted mental state. Stamped is an excellent complement to other personal narratives about what it's like to be a black person in America that I've been reading.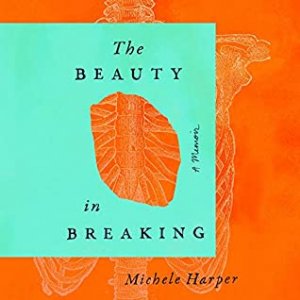 The Beauty in Breaking by Michele Harper, Narrated by Nicole Lewis
Memoir, Released July 7, 2020
7 Hours, 46 Minutes
Affiliate Link: Buy from Amazon
Plot Summary: Harper, a black female ER doctor, shares her experience caring for patients while trying to get her own life in order.   
My Thoughts: Harper talks about her childhood growing up in an abusive home and going on to graduate from Harvard. She shares instances where she was abused physically and verbally by ER patients, which were eye-opening to me. She was expected to tolerate an outrageous amount of inappropriate behavior. She also shares the racism she faced while trying to advance her career. You also get a look into how hospitals run behind-the-scenes, which is truly concerning (quality patient care is not hospitals' top priority). Harper's stories about her interactions with patients are the stars…and I was slightly less interested in the narrative about Harper's struggle to get her personal life on track. 3.75 stars.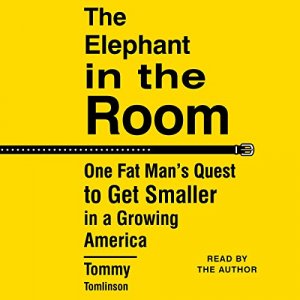 The Elephant in the Room
by Tommy Tomlinson, Narrated by the author
Memoir, Released January 15, 2019
7 Hours, 25 Minutes
Affiliate Link: Buy from Amazon
Plot Summary: Journalist Tomlinson's story of being morbidly obese (460 pounds) in America…and his upbringing in the food-loving South.
My Thoughts: First, I should say this isn't a book predominantly about weight loss. That's certainly part of it, but it's also a story of how Tomlinson got to the point where he weighed 460 pounds, how living in the world at that weight feels, and how his Southern upbringing played a role in his weight. As a fellow Southerner, I could appreciate what he said about Southerners' love of heavy food and food as a sign of love and hospitality (consequently making it difficult to turn down food offered in these situations). He talked about his Southern childhood in a way that reminded me of Pat Conroy and Rick Bragg. Tomlinson is likable and down-to-earth. I loved how he balanced taking personal responsibility for the bad habits that led to his weight with discussing the systemic elements of this country that make so many people fat. And, he made me appreciate the struggle that overweight people go through to lose weight and why it's not as simple as "eat less and workout" in a way I hadn't before. Tomlinson narrates the audiobook and his voice is very raspy for a medical reason he discusses in the book…this is initially jarring, but I was able to get used to it pretty quickly. 
The Fire Next Time by James Baldwin, Narrated by Jesse L. Martin
Memoir, Released January 31, 1963
2 Hours, 25 Minutes
Affiliate Link: Buy from Amazon
Plot Summary: Baldwin's story of growing up in Harlem and an exploration of racial injustice in America.
My Thoughts: The Fire Next Time was a bestseller when it came out in 1963, but it still feels completely relevant today. It's told through two letters that Baldwin wrote on the centennial of the Emancipation Proclamation, one of which is to his nephew. It has been mentioned many times as an inspiration for Ta-Nehisi Coates' Between the World and Me (the title of which appears in The Fire Next Time), but I actually found The Fire Next Time even more impactful for me because it avoids the esoteric philosophy tangents Coates occasionally went on. I was particularly struck by the realization that many African-American's last names are actually the last names of their ancestors' slave owners. And, Jesse L. Martin was an excellent narrator.
The Honest Enneagram
by Sarajane Case, Narrated by Leslie Howard
General Nonfiction, Released April 14, 2020
6 Hours, 34 Minutes
Affiliate Link: Buy from Amazon
Plot Summary: A chapter by chapter overview of the Enneagram personality system.
My Thoughts: I'm a bit late to the Enneagram party, but I've been intrigued hearing so many of my favorite podcasters talk about it. I finally took a free, online test and found that I'm an 8 ("The Challenger"). So, when I saw this audiobook pop up as an Advance Listening Copy on Libro.fm, I jumped. Each chapter is devoted to one Enneagram type and I thought it was a good overview of the system…especially for a beginner. I also liked fun Bingo squares at the start of each chapter showing how each Enneagram type would answer a specific question. While I liked the narration, I would actually recommend this book in print because I found myself wanting to refer back to things constantly and that's hard to do on audio. I still might get myself a hard copy. Plus, Sarajane is a great follow on Instagram (@enneagramandcoffee).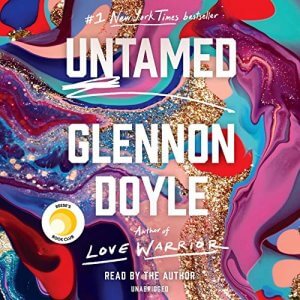 Untamed by Glennon Doyle, Narrated by the author
Memoir, Released March 10, 2020
8 Hours, 22 Minutes
Affiliate Link: Buy from Amazon
Plot Summary: Doyle shares her journey to finally living a life that's true to herself…including her marriage to soccer star Abby Wambach.  
My Thoughts: I keep a growing list of authors called "Women Who Get Women" (ex: Anna Quindlen, Mary Laura Philpott, and Kelly Corrigan) on my blog. These are women whose views on life I find relatable and refreshing…and Glennon Doyle is the newest addition to that list! Untamed came into my ears at a time when I desperately needed an extra dose of sanity (i.e. about 6 weeks into coronavirus quarantine and when I was mentally starting to break down). Listening to her felt like going to therapy. She makes you feel like it's okay to just be you…whatever that looks like. She's fierce in her belief that women should not be constrained any longer…by other people or societal expectations / norms. She encourages women to be the "goddamn cheetah." And, her views on parenting take that 100 pound boulder many moms carry around with them and push it right off your shoulders. Untamed was exactly the girl power I needed to hear in the middle of such an emotionally tough time…5 stars! Plus, she's a great Instagram follow…particularly this video about parenting during the quarantine.
What's the best audiobook you've listened to lately?
Pin this post…