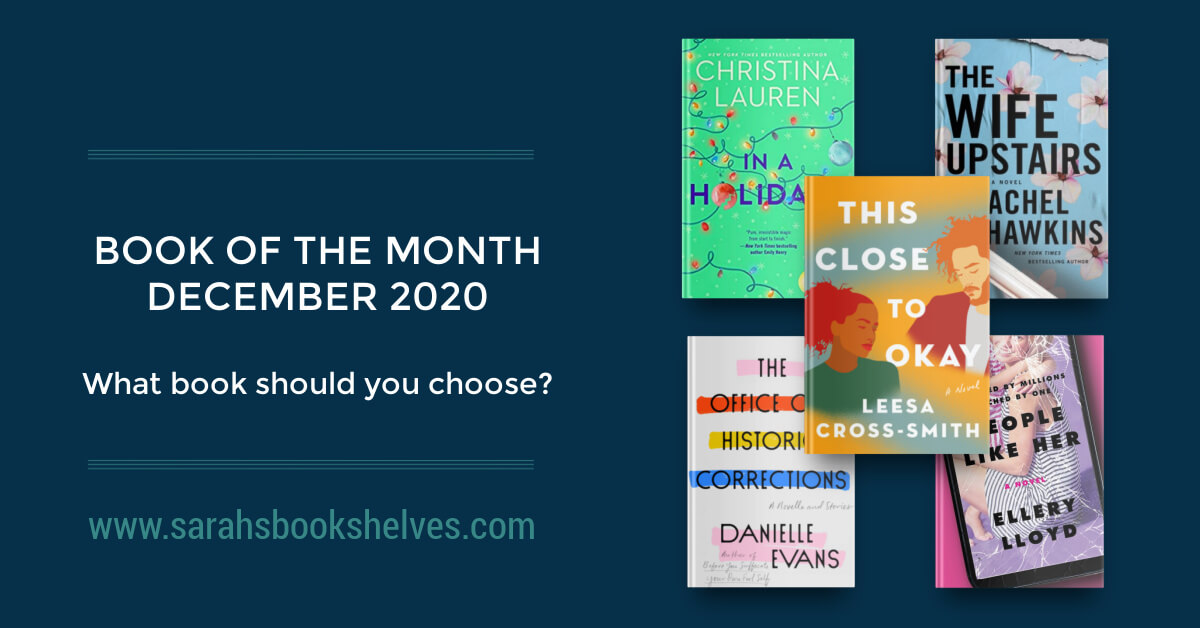 Welcome to my monthly feature "Book of the Month Selections: What Book Should You Choose?"! Every month, I provide commentary on the books that are chosen as that month's Book of the Month selections that will hopefully help you choose your pick, and tell you which book(s) I'm going to choose. 
Interesting group of picks…I like them (I'm picking two this month)! We've got three 2021 releases (I always love the early releases!), a November release (a book I hadn't paid much attention to, but ended up adding to my box after doing some research), and an October release. Usually in December, BOTM chooses a book from earlier in the year that they feel they missed out on, but I can't pinpoint what that book is in this group of picks. 
This post contains affiliate links and I will be compensated if you make a purchase after clicking on my links, but I'm also a paying customer.
Book of the Month December 2020 Selections
In a Holidaze
by Christina Lauren
Fiction – Romance (Release Date: October 20, 2020)
336 Pages
Average Goodreads Rating: 3.86 on 10,047 ratings
Recommended By: Emily Henry (author of Beach Read)
One Christmas wish, two brothers, and a lifetime of hope are on the line for hapless Maelyn Jones in In a Holidaze, the quintessential holiday romantic novel by Christina Lauren, the New York Times bestselling author of The Unhoneymooners.

It's the most wonderful time of the year…but not for Maelyn Jones. She's living with her parents, hates her going-nowhere job, and has just made a romantic error of epic proportions.

But perhaps worst of all, this is the last Christmas Mae will be at her favorite place in the world—the snowy Utah cabin where she and her family have spent every holiday since she was born, along with two other beloved families. Mentally melting down as she drives away from the cabin for the final time, Mae throws out what she thinks is a simple plea to the universe: Please. Show me what will make me happy.

The next thing she knows, tires screech and metal collides, everything goes black. But when Mae gasps awake…she's on an airplane bound for Utah, where she begins the same holiday all over again. With one hilarious disaster after another sending her back to the plane, Mae must figure out how to break free of the strange time loop—and finally get her true love under the mistletoe.
My Thoughts:
In a Holidaze is a time travel rom-com from this prolific co-writing duo. Goodreads reviewers said it's an easy read, a classic friends to lovers trope with some messiness and it has witty banter, a cozy Park City setting, a main character who shows personal growth, and a sugary ending that some loved and some felt was too sweet. They said there's no explanation given for the time loop structure that much like Groundhog Day (so, you have to be able to suspend your disbelief) and some felt the time loop was repetitive. Most reviewers loved the characters. Steph at Pie Lady Books has already read it twice and called it "the equivalent of warm Christmas cookies and a big hug all at the same time."
This Close to Okay by Leesa Cross-Smith
Fiction – Literary (Release Date: February 2, 2021)
320 Pages
Average Goodreads Rating: 4.40 on 10 ratings
Recommended By: Bryn Greenwood (author of The Reckless Oath We Made)

On a rainy October night in Kentucky, recently divorced therapist Tallie Clark is on her way home from work when she spots a man precariously standing on the side of a bridge. Without a second thought, Tallie pulls over and jumps out of the car into the pouring rain. She convinces the man to join her for a cup of coffee, and he eventually agrees to come back to her house, where he finally shares his name: Emmett.

Over the course of the emotionally charged weekend that follows, Tallie makes it her mission to provide a safe space for Emmett, though she hesitates to confess that this is also her day job. But what she doesn't realize is that he's not the only one who needs healing — and she's not the only one with secrets.
My Thoughts:
This Close to Okay is the 4th book from Cross (a BIPOC author), the Kentucky-based author. It has multiple viewpoints and deals with anxiety, grief, and mental health. There are not many reviews out yet (on Goodreads or elsewhere), but the Goodreads reviews I did find said it's emotional, the main character is a therapist, it's dark but also uplifting, and the main character (Tallie) is likable. Roxane Gay calls Smith "a consummate storyteller who uses her formidable talents to tell the oft-overlooked stories of people living in that great swath of place between the left and right coasts." And, Catherine Adel West (author of Saving Ruby King) loves this author and shared her short story collection, So We Can Glow, on my podcast. The publisher compares This Close to Okay to The Kind Worth Killing and The Mothers, both books I loved if not a somewhat perplexing combination.
The Wife Upstairs by Rachel Hawkins
Fiction – Psychological Thriller  (Release Date: January 5, 2021)
304 Pages
Average Goodreads Rating: 4.05 on 572 ratings
Recommended By: Megan Miranda (Author of The Girl from Widow Hills)
A delicious twist on a Gothic classic, Rachel Hawkins's The Wife Upstairs pairs Southern charm with atmospheric domestic suspense, perfect for fans of B.A. Paris and Megan Miranda.

Meet Jane. Newly arrived to Birmingham, Alabama, Jane is a broke dog-walker in Thornfield Estates––a gated community full of McMansions, shiny SUVs, and bored housewives. The kind of place where no one will notice if Jane lifts the discarded tchotchkes and jewelry off the side tables of her well-heeled clients. Where no one will think to ask if Jane is her real name.

But her luck changes when she meets Eddie Rochester. Recently widowed, Eddie is Thornfield Estates' most mysterious resident. His wife, Bea, drowned in a boating accident with her best friend, their bodies lost to the deep. Jane can't help but see an opportunity in Eddie––not only is he rich, brooding, and handsome, he could also offer her the kind of protection she's always yearned for.

Yet as Jane and Eddie fall for each other, Jane is increasingly haunted by the legend of Bea, an ambitious beauty with a rags-to-riches origin story, who launched a wildly successful southern lifestyle brand. How can she, plain Jane, ever measure up? And can she win Eddie's heart before her past––or his––catches up to her?
My Thoughts:
The Wife Upstairs is the first adult novel from this YA author (Hex Hall, a paranormal YA romance trilogy). It's a modern, Southern Gothic, twist on Jane Eyre and the publisher says it's for fans of Megan Miranda and B.A. Paris. Goodreads reviewers said there are lots of secrets, dislikable characters (actually, the entire cast is dislikable), multiple POV's, and an epic ending. They also said the twists are different than the original Jane Eyre. The complaints from more negative reviews mention the plethora of cliches and said the twists were not surprising for seasoned thriller readers. Not surprisingly, reviewers said this one will probably be divisive. It's been blurbed by Samantha Downing and Megan Miranda.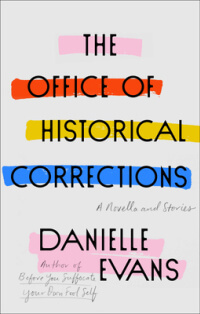 The Office of Historical Corrections by Danielle Evans
Fiction – Short Stories (Release Date: November 10, 2020)
288 Pages
Average Goodreads Rating: 4.38 on 434 ratings
Recommended By: Alicia Keyes (Musician)
The award-winning author of Before You Suffocate Your Own Fool Self brings her signature voice and insight to the subjects of race, grief, apology, and American history.

Danielle Evans is widely acclaimed for her blisteringly smart voice and x-ray insights into complex human relationships. With The Office of Historical Corrections, Evans zooms in on particular moments and relationships in her characters' lives in a way that allows them to speak to larger issues of race, culture, and history. She introduces us to Black and multiracial characters who are experiencing the universal confusions of lust and love, and getting walloped by grief—all while exploring how history haunts us, personally and collectively. Ultimately, she provokes us to think about the truths of American history—about who gets to tell them, and the cost of setting the record straight.
My Thoughts:
Danielle Evans (a BIPOC author) is a recipient of the National Book Foundation's 5 under 35 award for her previous short story collection, Before You Suffocate Your Own Fool Self. The Office of Historical Corrections (a novella + short stories) is her second collection, coming 9 years after her award-winning first one, and was long-listed for the Aspen Words Literary Prize.  Goodreads reviewers loved the sharp commentary on race and class and the focus on complicated female relationships. The stories left readers wanting more (some reviewers viewed this as a positive and others as a negative) and this collection was loved by many readers who "don't normally read or like short story collections." Liz Hein of @lizisreading_ said it's "unique and powerful and timely", Tyler Goodson rated it 5 stars, Roxane Gay said called it "a nuanced reflection of the world we are living in, one where the rules are changing, and truth is mutable and resentments about nearly everything have breached the surface of what is socially acceptable."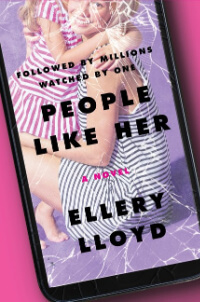 People Like Her by Ellery Lloyd
Fiction –  Psychological Thriller (Release Date: January 12, 2021)
288 Pages
Average Goodreads Rating: 4.18 on 101 ratings
Recommended By: Laura Hankin (Author of Happy & You Know It)
A razor-sharp, wickedly smart suspense debut about an ambitious influencer mom whose soaring success threatens her marriage, her morals, and her family's safety.

Followed by Millions, Watched by One

To her adoring fans, Emmy Jackson, aka @the_mamabare, is the honest "Instamum" who always tells it like it is. 

To her skeptical husband, a washed-up novelist who knows just how creative Emmy can be with the truth, she is a breadwinning powerhouse chillingly brilliant at monetizing the intimate details of their family life.

To one of Emmy's dangerously obsessive followers, she's the woman that has everything—but deserves none of it.  

As Emmy's marriage begins to crack under the strain of her growing success and her moral compass veers wildly off course, the more vulnerable she becomes to a very real danger circling ever closer to her family.
My Thoughts:
Ellery Lloyd is a pseudonym for the London-based husband-and-wife writing team of Collette Lyons and Paul Vlitos and this is their debut novel. People Like Her explores the dark side of social media influencing, Instagram, and mommy blogging…and includes multiple POV's. Goodreads reviewers loved the nuanced portrayal of influencer life (the glamorous and not so glamorous, including the dangerous), the behind-the-scenes look at the business side of social media, and the exploration of fame and its costs. They said it's hilarious, terrifying, fast-paced, and has dislikable characters.

What Book of the Month December 2020 selection(s) will I choose?
I'm getting This Close to Okay by Leesa Cross-Smith, as Catherine Adel West (author of Saving Ruby King) loves her and I already had this book on my radar for February. I'm also adding on The Office of Historical Corrections by Danielle Evans because of the excellent reviews, particularly by a couple readers I trust.
Make your Book of the Month selections by Sunday, December 6th.
What book will you choose this month?
This Month's Special Deals
NEW MEMBER DEAL: Get your first book for $9.99 with Code READUP (enter at checkout).
ANNUAL PAYMENT DEAL: BOTM is now a monthly subscription service. However, given that some members preferred paying upfront, they are now offering a 12-month option. Members who sign up for 12 months will pay $149.99/year. That's $12.50/book, instead of the standard price of $14.99/month.
How to Join Book of the Month…
Book of the Month is a subscription service for people who like to try new books from a curated selection and like to read in hardcover format. Through Book of the Month, you can get a hardcover book for generally significantly less than you'd pay in a bookstore or through Amazon. And, you get to try something new that has been vetted by one of Book of the Month's well-read judges!
Sign up for any of the subscription plans below and you get to choose one of five books selected by Book of the Month's panel of judges (including a surprise guest judge). Book of the Month will then mail your chosen book to your house with a cute note. You also have the option to purchase additional books for $9.99 each and to skip a month if you want.
Sign up for a Book of the Month membership (NEW pricing below)!
New members will sign up for a membership that renews monthly:
A book of your choice for $14.99 / month
Add extra books to your shipment for $9.99 each
Skip any month you want
Free shipping, always
Pin this post…