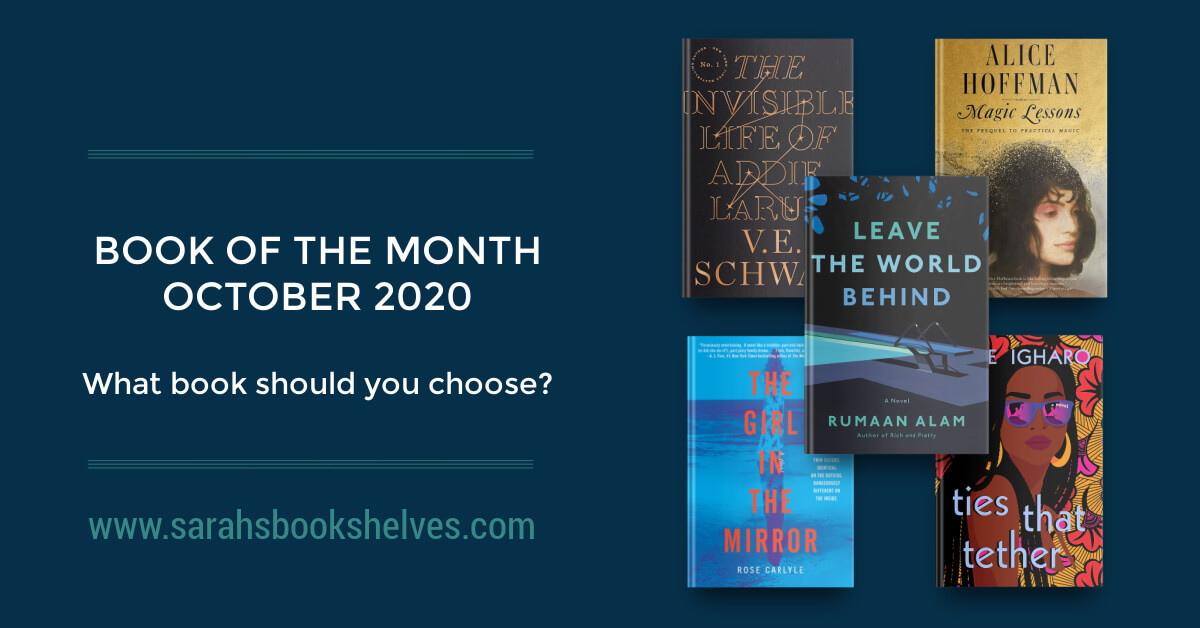 Welcome to my monthly feature "Book of the Month Selections: What Book Should You Choose?"! Every month, I provide commentary on the books that are chosen as that month's Book of the Month selections that will hopefully help you choose your pick, and tell you which book(s) I'm going to choose. 
I'm back after a couple months off from this commentary (for an explanation of why I took a few months off, please see this Instagram post for why I paused my coverage and this Instagram post for why I'm now resuming it).
As for this month's picks…I'm not as excited as I've been in the past few months, but still a solid group of choices with 2 diverse choices and some creepy choices for Halloween month. I'm a bit surprised Memorial by Bryan Washington wasn't a pick.
This post contains affiliate links and I will be compensated if you make a purchase after clicking on my links, but I'm also a paying customer.
Book of the Month October 2020 Selections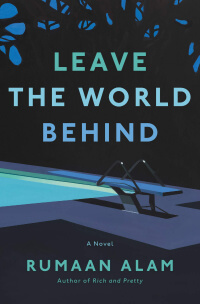 Leave the World Behind
by Rumaan Alam
Fiction – Literary (Release Date: October 6, 2020)
256 Pages
Average Goodreads Rating: 4.00 on 411 ratings
Recommended By: Siobhan Jones (Book of the Month Editorial Director)
A magnetic novel about two families, strangers to each other, who are forced together on a long weekend gone terribly wrong.

Amanda and Clay head out to a remote corner of Long Island expecting a vacation: a quiet reprieve from life in New York City, quality time with their teenage son and daughter, and a taste of the good life in the luxurious home they've rented for the week. But a late-night knock on the door breaks the spell. Ruth and G. H. are an older black couple—it's their house, and they've arrived in a panic. They bring the news that a sudden blackout has swept the city. But in this rural area—with the TV and internet now down, and no cell phone service—it's hard to know what to believe.

Should Amanda and Clay trust this couple—and vice versa? What happened back in New York? Is the vacation home, isolated from civilization, a truly safe place for their families? And are they safe from one another? 
My Thoughts:
I haven't had great luck with Rumaan Alam in the past (was lukewarm about Rich and Pretty and DNF'd That Kind of Mother), but I've been hearing great things from people I trust about his latest! Covers issues like parenthood, marriage, race, and class in a compelling plot, but he's apparently not heavy-handed with the issues. Goodreads reviewers said the ending is not wrapped up neatly (take note if that bothers you), it's a character-driven family drama (but also a horror/ literary mash-up), it's good for book club discussion, and there's a sense of foreboding because something is wrong, but the characters aren't sure exactly what it is. They said it's scary to read during a pandemic, and there's high tension. On the flip side, a couple reviewers didn't love the writing style (overwritten and harsh). Susie from Novel Visits: "It's a little bit dystopian and all about relationships and I loved it!" Tyler Goodson called it "the intersection of Reese Witherspoon and Don DeLillo." Jordan from @jordys.book.club, Annie Jones and Anne Bogel also loved it.
The Invisible Life of Addie LaRue by V.E. Schwab
Fiction –  Historical Fantasy (Release Date: October 6, 2020)
448 Pages
Average Goodreads Rating: 4.52 on 1,610 ratings
Recommended By: Alix E. Harrow (author of The Ten Thousand Doors of January)

A Life No One Will Remember. A Story You Will Never Forget.

France, 1714: in a moment of desperation, a young woman makes a Faustian bargain to live forever and is cursed to be forgotten by everyone she meets.

Thus begins the extraordinary life of Addie LaRue, and a dazzling adventure that will play out across centuries and continents, across history and art, as a young woman learns how far she will go to leave her mark on the world.

But everything changes when, after nearly 300 years, Addie stumbles across a young man in a hidden bookstore and he remembers her name.
My Thoughts:
This standalone took Schwab 10 years to write. It sprawling…spans countries and centuries (and has some magic). Addie sold her soul to the devil and the story is about figuring out what that means for her. Goodreads reviewers called it dark, edgy, and funny. They praised the great writing and multiple people said it's her best book yet. Themes include: LGBTQ characters and storylines, freedom to live your life, love of art, mental illness, and being unsure of who you are and what you want in life. Reviewers had mixed feelings about the ending. The more lukewarm reviews said it was slow, leans more towards literary fiction than fantasy, and feels more like a collection of similar scenes (the same scenes repeated over different time periods) that didn't hang together as well as they could have.  Jordan from @jordys.book.club rated it 4 stars and Deborah Harkness (author of the All Souls Trilogy) called it "a gem of a tale."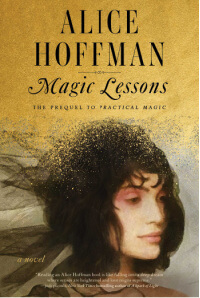 Magic Lessons by Alice Hoffman
Fiction – Literary / Historical  (Release Date: October 6, 2020)
416 Pages
Average Goodreads Rating: 4.46 on 543 ratings
Recommended By: Sara Sligar (Author of Take Me Apart)
In an unforgettable novel that traces a centuries-old curse to its source, beloved author Alice Hoffman unveils the story of Maria Owens, accused of witchcraft in Salem, and matriarch of a line of the amazing Owens women and men featured in Practical Magic and The Rules of Magic.

Where does the story of the Owens bloodline begin? With Maria Owens, in the 1600s, when she's abandoned in a snowy field in rural England as a baby. Under the care of Hannah Owens, Maria learns about the "Unnamed Arts." Hannah recognizes that Maria has a gift and she teaches the girl all she knows. It is here that she learns her first important lesson: Always love someone who will love you back.

When Maria is abandoned by the man who has declared his love for her, she follows him to Salem, Massachusetts. Here she invokes the curse that will haunt her family. And it's here that she learns the rules of magic and the lesson that she will carry with her for the rest of her life. Love is the only thing that matters.
My Thoughts:
Magic Lessons is a prequel to both Practical Magic and The Rules of Magic. I loved The Rules of Magic despite usually not liking books with magic in them. The magic was in the background and it was more of a family drama. From what I hear, you do not need to have read Practical Magic and The Rules of Magic to read Magic Lessons (just think of it as stating from the beginning). Goodreads reviewers said it's mesmerizing, dark and has an ominous feeling, gorgeous writing, and a strong sense of time and place. It covers the Plague and the Salem Witch Trials and the struggles of women in that time. On the flip side, they said there is more telling than showing, a feeling of disconnection, lots of lists (which turned some readers off), and that it slow to start (even some of the 5 star reviews said this) and takes a decent amount of concentration. Carla from Happiest When Reading rated it 3 stars. And, Jan Belisle (a blog reader I trust) DNF'd it.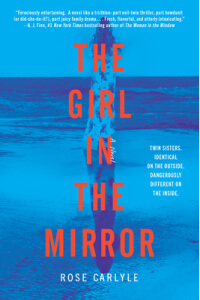 The Girl in the Mirror by Rose Carlyle
Fiction – Thriller (Release Date: October 20, 2020)
304 Pages
Average Goodreads Rating: 3.87 on 982 ratings
Recommended By: Megan Goldin (Author of The Night Swim)
Written with the chilling, twisty suspense of The Wife Between Us and Something in the Water, a seductive debut thriller about greed, lust, secrets, and deadly lies involving identical twin sisters.

Twin sisters Iris and Summer are startlingly alike, but beyond what the eye can see lies a darkness that sets them apart. Cynical and insecure, Iris has long been envious of Summer's seemingly never-ending good fortune, including her perfect husband Adam.

Called to Thailand to help her sister sail the family yacht to the Seychelles, Iris nurtures her own secret hopes for what might happen on the journey. But when she unexpectedly finds herself alone in the middle of the Indian Ocean, everything changes. When she makes it to land, Iris allows herself to be swept up by Adam, who assumes that she is Summer.
My Thoughts:
Carlyle is a law professor (I tend to have good luck with thrillers written by lawyers or former lawyers) and this is her debut thriller. Carlyle has also sailed a yacht with her husband and children and lived on a deserted island. The story is set in some cool spots…Australia, New Zealand, Thailand, and the Seychelles. Mirror twins is an actual phenomenon (I didn't know this!)…identical twins whose features are asymmetrical to each other. Goodreads reviewers said it's twisty (duh…maybe we can stop saying that about thrillers now?), has entertaining characters, lots of sailing details, and is all about lies and greed. They also mentioned trying to go in blind (there's too much in the publisher's synopsis…I've only included the first 2 paragraphs here). On the flip side, it has kind of a ridiculous premise and many reviewers mentioned having to suspend belief. Jordan from @jordys.book.club rated it 4 stars and said "this was is a freakin' blast, dark and soapy, and just when you think you have it figured out, BAM! you do not."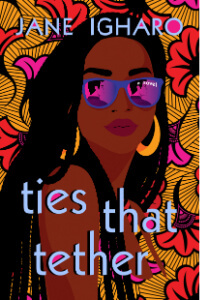 Ties That Tether by Jane Igharo
Fiction – Romance (Release Date: September 29, 2020)
320 Pages
Average Goodreads Rating: 4.15 on 168 ratings
Recommended By: Helen Hoang (Author of The Kiss Quotient)
When a Nigerian woman falls for a man she knows will break her mother's heart, she must choose between love and her family.

At twelve years old, Azere promised her dying father she would marry a Nigerian man and preserve her culture, even after immigrating to Canada. Her mother has been vigilant about helping—well forcing—her to stay within the Nigerian dating pool ever since. But when another match-made-by-mom goes wrong, Azere ends up at a bar, enjoying the company and later sharing the bed of Rafael Castellano, a man who is tall, handsome, and…white.

When their one-night stand unexpectedly evolves into something serious, Azere is caught between her feelings for Rafael and the compulsive need to please her mother. Soon, Azere can't help wondering if loving Rafael makes her any less of a Nigerian. Can she be with him without compromising her identity? The answer will either cause Azere to be audacious and fight for her happiness or continue as the compliant daughter.
My Thoughts:
Ties That Tether is an #ownvoices debut. Igharo was born in Nigeria and lives in Canada, where the story is set. The publisher says Ties That Tether is perfect for fans of Jasmine Guillory and Helen Hoang. There are strong female characters and a focus on the culture clash within the Nigerian immigrant community in Canada. Goodreads reviewers said it's a story about trying to figure out who you are while straddling different cultures, it focuses on family dynamics, there are minimal open door love scenes, there are a LOT of movie (specifically rom-com references, and the dialogue is forced / cliche / cheesy. Overall, Goodreads reviewers praised the cultural and family elements of the story, but felt the dialogue and character development was lacking a bit.
What Book of the Month October 2020 selection(s) will I choose?
I'm going with Leave the World Behind this month…it comes highly recommended by trusted recommendation sources.
Make your Book of the Month selections by Tuesday, October 6th.
What book will you choose this month?
This Month's Special Deals
NEW MEMBER DEAL FOR SARAHSBOOKSHELVES READERS: Get your first book for $9.99 with Code BOOKUP (enter at checkout).
ANNUAL PAYMENT DEAL: BOTM is now a monthly subscription service. However, given that some members preferred paying upfront, they are now offering a 12-month option. Members who sign up for 12 months will pay $149.99/year. That's $12.50/book, instead of the standard price of $14.99/month.
How to Join Book of the Month…
Book of the Month is a subscription service for people who like to try new books from a curated selection and like to read in hardcover format. Through Book of the Month, you can get a hardcover book for generally significantly less than you'd pay in a bookstore or through Amazon. And, you get to try something new that has been vetted by one of Book of the Month's well-read judges!
Sign up for any of the subscription plans below and you get to choose one of five books selected by Book of the Month's panel of judges (including a surprise guest judge). Book of the Month will then mail your chosen book to your house with a cute note. You also have the option to purchase additional books for $9.99 each and to skip a month if you want.
Sign up for a Book of the Month membership (NEW pricing below)!
New members will sign up for a membership that renews monthly:
A book of your choice for $14.99 / month
Add extra books to your shipment for $9.99 each
Skip any month you want
Free shipping, always
Pin this post…