A big thank you to TLC Book Tours for providing me with a copy of this book and for inviting me to be a host on this tour.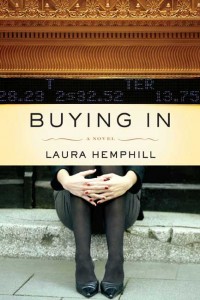 Fiction (Released November, 2013)
Bottom Line: Read it.
Link to this book on Amazon
Plot Summary:
Well-educated small town girl, Sophie Landgraf, goes to work as a Wall Street investment banking analyst and is quickly taught the ways of the Wall Street world.
My Thoughts:
When I first started reading this book, I thought it was going to be the chick version of Monkey Business (an expose of investment banking culture), albeit with less of the snarky humor. I also thought the parts that would add depth to the investment banking culture backdrop would be the effects Sophie's job has on her relationships (I've been there – my husband is an investment banker!). Wrong on both counts – and I'm glad I was!
I thought the most compelling part of the book was the deal that Sophie was working on. Hemphill brought out the human and personal aspects of the deal and really made it a suspenseful roller coaster ride. And, I was obviously shocked that I found an investment banking deal the least bit interesting! Each party to the deal (both the buying and selling CEOs, the senior bankers, and the junior bankers) have completely different motives for wanting the deal to succeed and it was eye-opening how each party's motive was completely unrelated to the actual value of the deal. No wonder so many horrible deals end up getting done in real life (see AOL – Time Warner)!
I admire Hemphill for avoiding many potential cliches in this story and I thought this was what differentiated this "Wall Street tale" from the many others out there. She focused on the ethical dilemmas that can come up in banking deals and the main characters did not necessarily react in the ways you would expect. And, she avoided an easy cliche ending, which I loved, although I suspect some readers won't agree with me.
Finally, you can't have an investment banking book without your fair share of anecdotes about the industry's crazy culture and Hemphill didn't skimp on those. She accurately portrays the crippling anxiety over meaningless events at the office, the lack of presence in your personal life (outings with significant others, family events, holidays, etc), the compulsive checking of the blackberry (even in the middle of the night!), and the crazy state of being without sleep for multiple days while being hopped up on caffeine.
Buying In is an easy to read, suspenseful Wall Street story.

You May Also Like:
Ghosts of Manhattan by Douglas Brunt
House of Cards by William Cohan