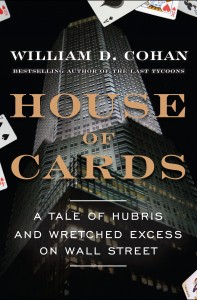 Nonfiction – Business (Released March, 2009)
Bottom Line: Read it.
Link to this book on Amazon
Plot Summary:
The story of the 2008 collapse of Bear Stearns.
My Thoughts:
This is the definitive story of the first domino to fall in the 2008 financial collapse – and focuses on the final weeks leading up to Bear's sale to JP Morgan.
On Wall Street, Bear was known for its rough and tumble culture and Cohan illustrates how this (among other things) contributed to its downfall. Jimmy Cayne, Bear's final CEO, provides much of House of Cards' comic relief and anecdotal material.
Cohan provides a window into the U.S. government's previously unprecedented (but soon to become normal) level of involvement in a private sector merger negotiation.
And, as became commonplace in many books on the 2008 financial crisis, you can expect a heavy dose of backstabbing and drama among the key players.
House of Cards is on my Business Books List.