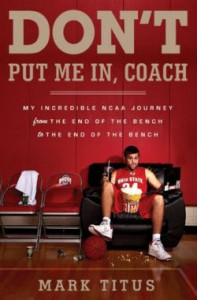 Don't Put Me In, Coach: My Incredible NCAA Journey from the End of the Bench to the End of the Bench

by Mark Titus, Nonfiction – Sports (Released March, 2012)
Bottom Line: Skip it.
Summary: Titus chronicles his experience as a bench-rider on the Ohio State men's basketball teams starring Greg Oden and Evan Turner.
My Thoughts: Titus is sort of amusing (but not hilarious) as he makes light of his experience in NCAA basketball and as the comic relief in the locker room. There are a few decent anecdotes about Oden and Turner, but far too many stories about Titus needing to visit the men's room during the critical moments of games.