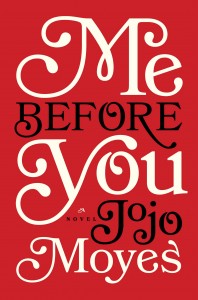 Fiction (Released December, 2012)
Bottom Line: Read it.
Link to this book on Amazon
Plot Summary:
Louisa Clark takes a job as a caregiver for Will Traynor, an adventure buff and finance bigwig turned quadriplegic, and faces unexpected feelings and a massive moral dilemma.
My Thoughts:
Me Before You was one of those books that had been on my "to read" list forever. I kept hearing people loved it, but every time I read Amazon's plot summary, I would decide not to buy it. I want to shake myself – my lesson learned (yet again!!) is that if people keep talking about a book with an unappealing title or plot summary, there is probably a reason (a la The Immortal Life of Henrietta Lacks, The Language of Flowers, and The Fault in our Stars)!!
I could not put this book down! I usually stop reading to take notes along the way and I was halfway through the book before I realized I had not taken a single note (oops!). Me Before You is very easy to read and, despite dealing with a very serious topic, it reads like chick lit in a good way.
Will and Louisa, the main characters, are both witty and appealing. Louisa is a bit nerdy and nervous, but underneath has a strong sense of herself and a cheeky personality. Will is the more conventional sarcastic type wit. While he is understandably cantankerous about the fact that his previous "big life" has given way to a solitary existence where he depends on others for everything, some of the great moments in the book are when Louisa manages to draw him out of that shell. And their banter brings a lot of lightheartedness to what is ultimately a heartbreakingly sad story.
This book was so sad, but so good – I was enthralled the entire way through and completely see why people have been talking about it for a year now! Me Before You is one of my favorite books of the year and is also going on my Book Club Recommendations List. 
You May Also Like:
Nineteen Minutes by Jodi Picoult
The Fault in our Stars by John Green