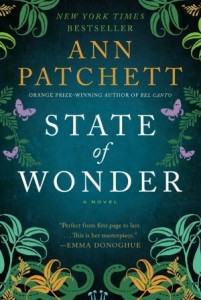 State of Wonder

by Ann Patchett, Fiction (Released June, 2011)
Bottom Line: Read it.
Summary: Dr. Marina Singh is sent to the Amazon to gather information on the mysterious death of a colleague and the status of a fellow doctor's (Dr. Annick Swenson) groundbreaking research with the Lakashi tribe, where the women give birth well into their seventies.
My Thoughts: People had been telling me to read this book for awhile and I kept procrastinating because I thought Patchett's "much acclaimed" Bel Canto was one of those "literary" darlings that was actually pretty boring. What a mistake! I loved this book! The implications of Dr. Swenson's research are mind-blowing to think about in a "what if" scenario for real life. And, reading about the Lakashi tribe reminded me a bit of Born to Run (minus the long distance running, of course). Patchett does a great job of enveloping you in this remote, intriguing, but dangerous world. State of Wonder is on my Book Club Recommendations List.