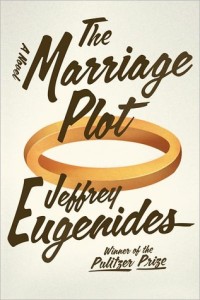 The Marriage Plot: A Novel

by Jeffrey Eugenides, Fiction (Released October, 2011)
Bottom Line: Read it.
Summary: TMP chronicles the end of college and the confusion of starting life in the real world for 3 Brown University seniors in the 1980′s: Madeleine (a "romantic" English major and avid reader), her boyfriend (Leonard – a science major and manic depressive), and "guy friend" (Mitchell – who is obsessed with Madeleine).
My Thoughts: This was a tough one. I thoroughly enjoyed reading it and flew through it, but am having a hard time pinpointing why.  Parts of The Marriage Plot annoyed me – grating character traits, the literary snobbery in world of Brown University English majors, and a focus on esoteric religious thought towards the end of the book.  However, it is beautifully written, the more interesting version of the classic girl/boyfriend/"best guy friend" love triangle kept me turning the pages, and the "what to do after college" angle helps it keep its feet on the ground.