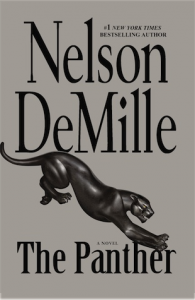 The Panther by Nelson DeMille
Fiction
Released October, 2012
621 Pages
Bottom Line: Read it.
Affiliate Link: Buy from Amazon

Source: Purchased
Plot Summary
Anti-Terrorist Task Force Agents John Corey and his wife, Kate, are recruited to track down one of the masterminds of the USS Cole bombing in Yemen.
My Thoughts
If you've read any of Nelson DeMille's other John Corey novels (i.e. Plum Island, Night Fall, Wild Fire, The Lion's Game, or The Lion), you can expect more of the same from The Panther.
John Corey's sarcastic and politically incorrect commentary is on full display (despite sometimes overdoing it) and The Panther is packed with terrorist fighting action. The plot twists and turns make for an easy read that is hard to put down.
But, DeMille really differentiates The Panther from his other Corey novels through his focus on the country of Yemen ("dysfunctional would be an improvement"). DeMille tends to write about topics that are pertinent to the current anti-terrorism reality and Yemen is certainly a rising Al Qaeda hotbed and terrorist threat. His description of the country, the people, the government, the Islamic Fundamentalists, and the war for control (between the Yemeni government, Al Qaeda in the Arabian Peninsula, and the Yemeni tribal warlords) is refreshingly candid and different from anything you'll see in the news about this country. 
The Panther is a double whammy – thrillingly plot driven and informative – and is going on my Books for Guys and Page Turners lists.