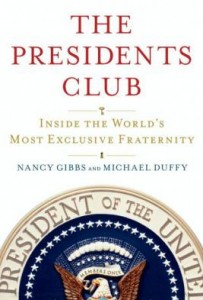 The Presidents Club: Inside the World's Most Exclusive Fraternity

by Michael Duffy and Nancy Gibbs, Nonfiction – History
Bottom Line: Read it.
Summary: The stories of the relationships between former and current U.S. presidents from Herbert Hoover through Obama.
My Thoughts: This book is a totally unique way to view the office of the Presidency and the Presidents themselves. It's not a policy book – the focus here is on personalities and relationships. It's somewhat amazing that the same people that will selflessly go to any length to protect the office of the Presidency will also selfishly go to any length to rehabilitate or shape their personal legacies. Obviously, these two goals often conflict, resulting in some drama. Nixon was famous for constantly trying to erase his legacy of Watergate and for being unable to step back from the "policy game", while Carter fancied himself a master diplomat and was famous for "going rogue" under the guise of "helping" sitting Presidents conduct foreign policy. The Presidents Club explores some fascinating bi-partisan relationships that blossomed after brutal campaigning ended: Clinton often talked foreign policy with Nixon, Kennedy consulted Eisenhower after the Bay of Pigs fiasco, and, as has been well-publicized, Bush 41 and Clinton partnered on a variety of projects after both left office. This book is easy to read and is a must for anyone interested in Presidential history – it's going on my Books for Guys List.