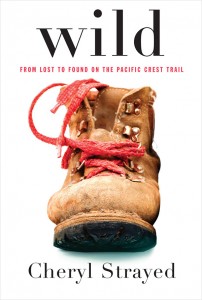 Nonfiction – Memoir (Released June, 2012)
Bottom Line: Read it.
Link to this book on Amazon
Plot Summary:
A twenty-six year old woman tries to recover from her divorce and the death of her mother by spending three months hiking the Pacific Crest Trail (PCT) alone.

My Thoughts:
I heard great things about this book before I read it – from friends and online reviews – but, I was still skeptical about how a virtual one character story about a woman in the wilderness was going to stay interesting for 300+ pages. Happily, I was wrong and loved this book!
I enjoy hiking, but my version of hiking is a couple hour excursion with some friends, so I cannot say that I went into this book with a keen interest in "hiking" in the PCT sense. Yet, Strayed's storytelling and writing style managed to keep me engaged on every page. She interspersed the admittedly colorful details of her "before" life with her hike on the PCT, giving the story many dimensions and additional characters. 
Strayed is a complex person. At times, I found her self-pitying, rash, self-absorbed, and irresponsible. At other times, I found her inspiring, mentally tough, brave, and resourceful. Overall, I think her complexity as a "character" was part of what made the story compelling and she ended up being someone I rooted for.
Finally, I can add the PCT and long distance hiking as a topic that I've learned a bit more about, an outcome I always appreciate in a good book. 
Wild is on my Book Club Recommendations List.