This post is part of fellow book blogger, Beth Fish Reads', weekly meme (a "community" blog post, for all those non-bloggers out there) called Weekend Cooking. I originally reviewed Yes, Chef in November, 2013, but thought I would bring it out again for Weekend Cooking!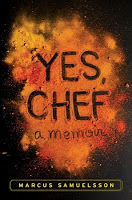 Nonfiction – Cooking/Memoir (Released June, 2012)
Bottom Line: Skip it…unless you love cooking and restaurants.
Link to this book on Amazon


Plot Summary:
Chef Marcus Samuelsson shares his background as an Ethiopian orphan adopted by a Swedish family and his rise through the culinary world, culminating in a "Top Chef Masters" win and his own restaurant, Red Rooster.
My Thoughts:
I had mixed feelings about this book. The first part was repetitive and slow-moving, even though Samuelsson has a unique personal story (i.e. lots of material for a memoir). There are other books that describe culinary school and what it's like to try to "make it" as an elite chef with much more vibrancy.
I also wish he had included more about his experience on "Top Chef Masters" – which would have helped this book appeal to a broader audience.
However, the last part of the book really picked up – I loved learning the history behind the NYC restaurants he was involved with, especially how he founded Red Rooster and made it a success against unfavorable odds. Big time "foodies" may enjoy this book, but it is too niche to recommend to a general audience.