Fiction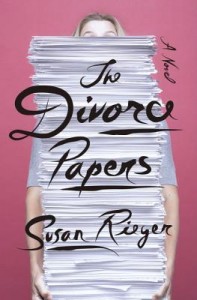 Released March, 2014
480 Pages
Bottom Line: Read it…especially if you're a child of divorce or have been through one yourself
Affiliate Link: Buy from Amazon
Plot Summary of

The Divorce Papers

:
Twenty-nine year old criminal lawyer, Sophie, is forced to pinch hit on the divorce case of Mia Durkheim, the blue blood daughter of one of the firm's most important clients.
My Thoughts on

The Divorce Papers

:
You should take the book's title literally because the actual papers relating to a divorce are  exactly what this book is. The story is told entirely through inter-office emails, legal documents, letters to and from the client and between Mia and Daniel (Mia's estranged husband), and emails between Sophie and her best friend. I was thankful that I had been warned about this presentation by other bloggers, as I think it would have thrown me off had I gone in blind. Given the warning I had, I enjoyed this change of pace!
I worried that I would glaze over reading the legal documents, but I actually found them interesting and I learned a fair amount about how divorce works (the legal side…as a child of divorced parents, I'm quite familiar with the emotional side). I think the fact that I had experienced a divorce probably made the legal ins and outs particularly compelling and many of the philosophical points the book makes about divorce rang very true to me. It's possible this stuff may not speak to someone who hasn't experienced divorce in some capacity, but I don't think it would cause those lucky people not to enjoy the book. Divorce is sadly prevalent enough in our society that I highly doubt it's a foreign concept to many people!
The characters were what really brought this story to life. Sophie is a typical twenty-nine year old who is still a child in her personal life, but is handling very "adult" issues at work. She goes after this divorce a bit unconventionally, which wins over Mia. Mia was my favorite character…she's smart, brave, creative, has a fresh perspective on her heartbreaking situation, and is a general badass. Daniel is the cliche workaholic (he's a Pediatric Oncologist), cheating husband (I've always wondered how these workaholics find time to have affairs!!), but he does show some heart every now and then. And Mia and Daniel's 11 year-old daughter, Jane, is heartbreaking in her earnestness to figure out what all this means for her.
For a book about a serious topic, there is much light-heartedness. Most if it stems from Mia and Daniel's jabs at each other, which are funny, and Sophie's musings on the whole process to her co-worker. On the flip side, Jane's perspective drills home how serious and life-altering divorce is for everyone involved.
The Divorce Papers is a perfect example of my favorite type of beach read…something on the lighter side, but still containing substance…and is going on my upcoming Summer Reading List (click here to see last year's list).
You May Also Like:
A Hundred Summers by Beatriz Williams
Indiscretion by Charles Dubow
Where'd You Go, Bernadette? by Maria Semple