This post is part of fellow book blogger, Beth Fish Reads', weekly meme (a "community" blog post, for all those non-bloggers out there) called Weekend Cooking.
I know, I know..I keep saying I'm going to stop posting about fish every single week. But, I just can't help it! So many of my favorite recipes are fish! So, I'm going to stop apologizing and embrace it. This week, I'm spotlighting a certain type of fish and a cooking method (rather than sharing a "recipe"), which I learned at the phenomenal Institute of Culinary Education's recreational cooking classes.
My husband's daily commute invokes taking the train from NYC's Grand Central Station and he will sometimes pick up dinner at the fabulous and convenient Grand Central Market. One day, he came home with Basa, a Southeast Asian fish that is similar to flounder. We were bowled over. It was mild, easy to cook, and had a delicious, buttery flavor. And, it was cheap…like two large fillets for $9 cheap!
Of course, I then turned to Google to learn more about this fish and found that there is a debate about how safe it is since it is farmed near the extremely polluted Mekong River. I need to do some more research, but I figure we eat it at most twice a month, so we should be OK…let's hope!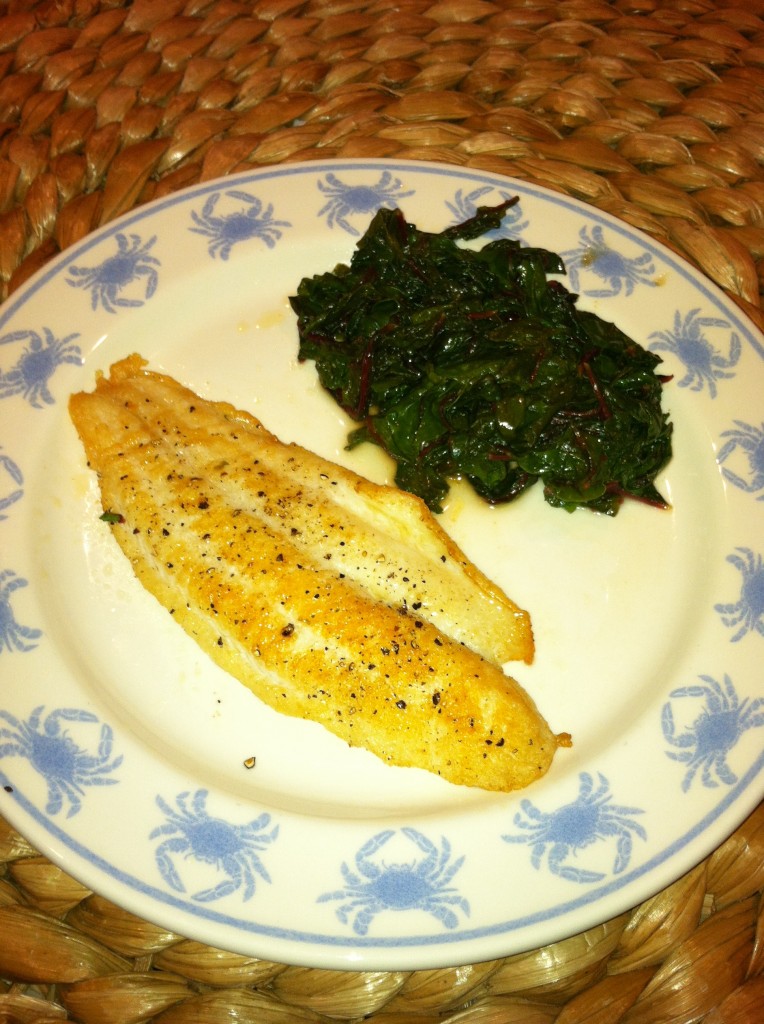 Method: Pan Searing Fish
For skinless fillets of light, flakey fish
Pat fish fillets dry with paper towel and season on both sides with salt and pepper.
Heat a stainless steel sauté pan over high heat.
Add canola or vegetable oil (do not use olive oil – it burns over extremely high heat). When oil ripples, add fish fillets presentation side down.
Press fish flat with a spatula. Do not touch fish in any other way until you are able to slide the fish around the pan merely by jiggling it. If you try to pry the fish up from the pan using the spatula, it means it's not finished cooking.
Once you can slide the fish by jiggling the pan, flip the fish and repeat process for the second side.
Once fish is done (you're looking for a light, golden crust), squeeze a generous amount of lemon juice over the top and serve.
Click here for Rachael Ray's Savory Swiss Chard recipe.