Welcome to the final installment of the "Don't Tell Me You Don't Read in the Bathroom" Series…where Hanover Avenue and Shannon Kaye accessorize this affordable "blank canvas" master bathroom (created entirely out of materials from Lowe's Home Improvement!) three different ways.
So far, we've featured the soothing, spa-inspired Mineral Bathroom and the seafaring themed Captain's Quarters Bathroom (all with accompanying books, of course!). Now, we have…
The Spring Clean Bathroom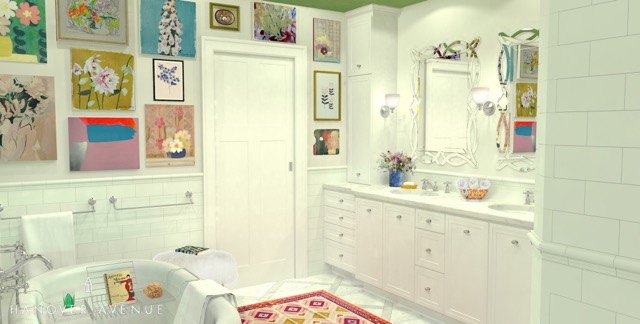 Visit Hanover Avenue for more pictures of this gorgeous bathroom and buying and design guides.
Neutral materials and finishes in bathrooms seem to beg for gorgeous color on the walls and accessories to bring your personal style to the space. […] don't be afraid to use unexpected objects in surprising ways. Then fill the room with quirky personal things […].


– 

Shannon Kaye
The Books
Obviously, a well-stocked bathroom must include at least a few books because…don't even try to tell me you don't read in the bathroom!
Shannon's vision for the Spring Clean bathroom made me think of whimsical books with quirky characters. I also loved the bright, colorful covers of these two selections for this room.

Auntie Mame by Patrick Dennis
Could the classic Auntie Mame be fiction's original whimsical character?! This story of "the rollicking adventures of this unflappable flapper as seen through the wide eyes of her young, impressionable nephew" (Amazon) was a favorite when I read it years ago.
Affiliate Link: Buy from Amazon
Infinite Home by Kathleen Alcott (my review)
A sweet, heart-warming story featuring an eclectic cast of characters living in a rundown apartment building. Oh, and the writing is knock-you-out gorgeous and totally unique.
Affiliate Link: Buy from Amazon