Welcome to the second installment of the "Don't Tell Me You Don't Read in the Bathroom" Series…where Hanover Avenue and Shannon Kaye accessorize this affordable "blank canvas" master bathroom (created entirely out of materials from Lowe's Home Improvement!) three different ways.
Last week, we featured the soothing, spa-inspired Mineral Bathroom (with accompanying books, of course!). Now, we're back with an entirely different take on things…
The Captain's Quarters Bathroom

Visit Hanover Avenue for more pictures of this gorgeous bathroom and buying and design guides.
Even with clean classically designed bathrooms I like to bring in color and create a sense of history; in this case sea faring history with watery hues for the walls and ceiling. – Shannon Kaye
The Books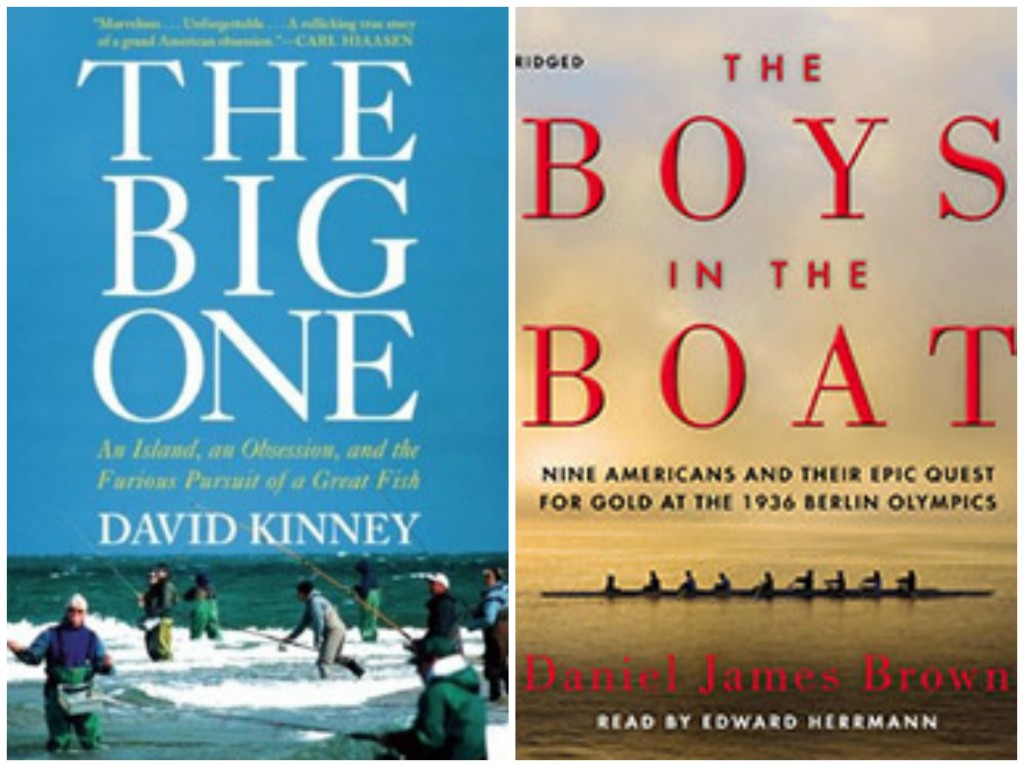 Obviously, a well-stocked bathroom must include at least a few books because…don't even try to tell me you don't read in the bathroom!
Shannon's vision for Captain's Quarters brought to mind a sort of "the sea is angry" vibe. Both of my book choices are water and boat focused and share slices of history, but in entirely different ways. One relies on man finessing the water to create speed, while the other portrays a battle between man/woman and fish. And, no, I didn't try to saddle you with Moby Dick…I want you to actually read these books!
The Big One by David Kinney (my review)
A behind the scenes look at the annual Martha's Vineyard Striper & Bluefish Derby, a month-long, 24/7 fishing tournament that draws an eclectic mix of competitors (including locals, foreigners, professionals, amateurs, grandmas, and kids).
Affiliate Link: Buy from Amazon
The Boys in the Boat by Daniel James Brown (my review)
The true story of Joe Rantz and his University of Washington teammates' quest to win gold in the men's eight rowing event at the 1936 Berlin Olympics…despite numerous obstacles posed by the Great Depression.
Affiliate Link: Buy from Amazon
Check back tomorrow for the final installment in the master bathroom series: Spring Clean.