Every Tuesday fellow blogger Bibliophile By the Sea hosts First Chapter First Paragraph Tuesday Intros, where bloggers share the first paragraph of the book they are currently reading or thinking about reading soon.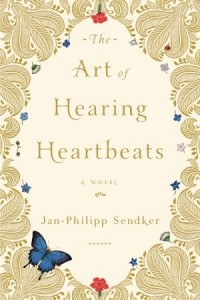 One of my friends has been telling me to read this book forever. And I have to admit that I would read the plot summary and then decide not to pick it up…over and over again. I have eaten my words in situations like this many times before (The Fault in our Stars, The Immortal Life of Henrietta Lacks, The Language of Flowers) and I'm thinking this might be another "eat my words" book…at least I hope so!
The Art of Hearing Heartbeats Plot Summary from Amazon:
A poignant and inspirational love story set in Burma, The Art of Hearing Heartbeats spans the decades between the 1950s and the present.  When a successful New York lawyer suddenly disappears without a trace, neither his wife nor his daughter Julia has any idea where he might be…until they find a love letter he wrote many years ago, to a Burmese woman they have never heard of. Intent on solving the mystery and coming to terms with her father's past, Julia decides to travel to the village where the woman lived. There she uncovers a tale of unimaginable hardship, resilience, and passion that will reaffirm the reader's belief in the power of love to move mountains.
Here's the first paragraph of Part One:
"The old man's eyes struck me first. They rested deep in their sockets, and he seemed unable to take them off me. Granted, everyone in the teahouse was staring at me more or less unabashedly, but he was the most brazen. As if I were some exotic creature he'd never seen before."
What do you think? Would you keep reading? Stay tuned for my full review…