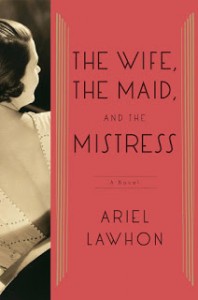 Historical Fiction
Released January, 2014
322 Pages
Bottom Line: Read it.
Link to this book on Amazon
Plot Summary
Based on the actual 1930 disappearance of New York State Supreme Court Justice Joseph Crater, this novel tells the story of what could have happened to him from the perspectives of his wife, his mistress, and his maid.
My Thoughts
Hooray! The Wife, The Maid, and The Mistress is the first book of the year that I have absolutely loved and it will definitely make an appearance on my "Best Books of 2014" List come December (click here for previous "Best Books of the Year" Lists). The "true crime" angle reminded me of Sutton by J.R. Moehringer, while the setting of 1930 NYC is reminiscent of Rules of Civility by Amor Towles. Both books that I loved!
Apparently, this still unsolved crime was a huge story when it happened – in both hard news and the gossip rags. Many theories surrounded Crater's disappearance, which is easy to imagine given the cast of characters in his life (gangsters, prostitutes, Broadway showgirls, and various other crooked characters). These characters, along with Stella (his wife), Ritzi (his mistress), and Maria (his maid), also lend themselves to a great story! Some are real people from Crater's life and some are fictional characters that the author included as composites of multiple people or for the purpose of the narrative. The "Author's Note" at the end of the book clearly lays out what/who is real vs. fiction, but I recommend saving it until after you've read the story – it makes it more fun!
The story builds slowly at first, setting the scene, allowing the reader to get to know the characters, and really making you feel that time period in NYC.
"No one got anywhere those days without help. Everyone owed favors. And there were always layers of corruption. Hell, the well-oiled machine of Tammany Hall ran on bribery. You want a place in the club? You pay your dues to Owney Madden, and he puts in a good word with whatever politician he has in his pocket. But now you're beholden to Owney, and he has an agenda of his own."
Once I hit the halfway point, I couldn't put it down! Lawhon expertly releases bits of information at the perfect times and I was dying to know how everything fit together. However, I was thankful that she didn't rush things because the initial focus on the time period and characters added more power to the story in the end.
The women, particularly Stella, Ritzi, and Maria, are smart and just as willing as the men to "do what they have to" to survive. And, each of them has her own reasons for her actions. I also enjoyed learning about NYC politics in 1930, specifically the corrupt reign of Tammany Hall, which these three women were not afraid to tackle head on.
The Wife, The Maid, and The Mistress is a page turning story of backstabbing, corruption, and survival set against an intriguing time period – and it's a fun read! It's going on my Book Club Recommendations and Page Turners lists.
You May Also Like
The Chaperone by Laura Moriarty
Rules of Civility by Amor Towles
Sutton by J.R. Moehringer