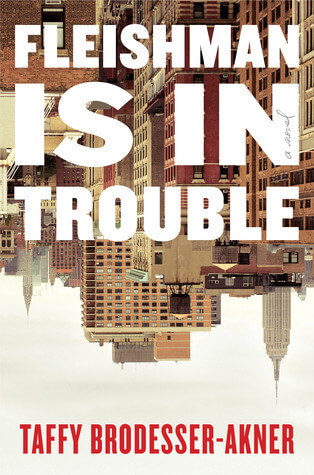 Fiction – Literary
Released June 18, 2019
384 Pages
Bottom Line: Read it…if you like snark.
Affiliate Link: Buy from Amazon
Source: Library (Random House)
Headline
I loved the snarky writing, the male perspective on divorce, and the surprising feminist undercurrent of this "very New York City" novel that's garnering mixed reviews.
Plot Summary
When Toby (a doctor) and his high-powered wife, Rachel, separate, Toby revels in newfound attention from women until Rachel disappears, leaving him to juggle his job with being the primary caregiver to their two children.
Why I Read It
I'd been hearing mixed reviews about this book, but Annie Jones saying she really liked it (and that the writing was snarky) finally got me to pick it up.
Major Themes
Divorce, marriage, dealing with your insecurities, women's vs. men's life experience
What I Loved
The first part of

Fleishman is in Trouble

feels like a divorcée version of

The Love Affairs of Nathaniel P.

(my review), another spot-on book about dating in NYC from the male perspective. Based on the divorced males' experience that I know, Toby having women fall all over him seems fairly accurate.
Toby was never the guy getting all the attention (he's super short) and, the unexpected attention he receives after his separation turns him into a bit of a Ronald Miller (from Can't Buy Me Love). He doesn't quite know how to handle all this newfound attention.

The story not only explores the affects of separation / divorce, but also explores the breakdown of a marriage from the husband and wife's perspective, a marriage where the wife has a bigger career than the husband, and stay-at-home motherhood.

This is a "very New York City" book, which could be a good or a bad thing depending on your experience with NYC. I lived there for 10 years, so I appreciated all the NYC eccentricities. For example, being a doctor is not viewed as a financially lucrative career in some NYC circles and Toby encounters this from the parents at his children's school and from Rachel's colleagues.

The writing is snarky and witty, which I love. And, there is lots of self-deprecating humor from Toby about his insecurities. I should warn you, though…this book is explicit about sex.
More than that, a person shouldn't be made horny when he felt like garbage. The intersection of horniness and low self-esteem seemed reserved squarely for porn consumption.
The narrator of this story is a female childhood friend of Toby's. I may be overthinking this, but in the second half of the book she does / says something that seemed to me like a metaphor for what Taffy Brodesser-Akner was trying to accomplish with

Fleishman is in Trouble

. She quits her job at a men's magazine as the token journalist providing the "women's perspective" and says the lines below. So, I wondered…is Brodesser-Akner telling the story of a marriage where the gender roles are somewhat reversed in order to get across to the world the plight of women in divorce (put sticking a man in the woman's traditional position to get the world to pay attention)? If this was intentional…kudos to Taffy Brodesser-Akner!
That was what I knew for sure, that this was the only way to get someone to listen to a woman—to tell her story through a man; Trojan horse yourself into a man, and people would give a shit about you.
So, this book has an unexpected feminist angle and I love that.

It would make a fantastic book club pick and is one of the underrated gems of the year in my opinion.
What I Didn't Like
There's a few too many rambling tangents.

The ending felt overly drawn out.
A Defining Quote
And yes, if you believe his version, she was a vile kind of ex-wife (all ex-wives are vile, to hear it), but she was also someone who had been driven crazy. Maybe it was the insult of childbirth. Maybe it was the overwhelming unfairness of what happens to a woman's status and body and position in the culture once she's a mother. All those things can drive you crazy if you're a smart person. If you are a smart woman, you cannot stand by and remain sane once you fully understand, as a smart person does, the constraints of this world on a woman.
Good for People Who Like…
Snarky writing, dark humor, New York City books.
Other Books You May Like
Another book about dating in New York City from the man's perspective, written by a woman:
The Love Affairs of Nathaniel P. by Adelle Waldman (My Review)

Pin this post…