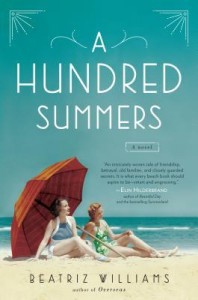 Fiction
Released May, 2013
369 Pages
Bottom Line: Read it.
Affiliate Link: Buy from Amazon

Source: Purchased

Plot Summary
In the summer of 1938, Lily plans to relax at her family's vacation home in Seaview, Rhode Island (a blue blood beach enclave), but her childhood best friend and former fiancé's appearance throws a wrench in her plans.
My Thoughts
A Hundred Summers is a light, fun book that would make a great beach read. However, it does have some depth to it, which is why I enjoyed it so much. If you saw my 2013 Summer Reading List, you know that my favorite beach reads find the sweet spot between being light / fun and having some depth (but not too much!). A Hundred Summers fits this criteria to a tee, which is probably why it was billed as one of the "big books" of last summer.
Lily is a sweet, well-behaved, and almost universally liked twenty seven year old who has spent the last six years of her life caring for her younger sister. Budgie Byrne (Lily's childhood best friend and fellow Seaview summer resident) couldn't be more different than Lily – she's needy, spontaneous, irresponsible, and prone to behaving badly. Of course, in the previous six years, she has married, divorced, then married a second time (her second husband is Lily's onetime fiancé, Nick Greenwald). Lily and Budgie's relationship provides many of the fun elements of the book, while Nick provides more of the depth.
Nick is Jewish…which, in the 1930's, was a big deal in the WASPy world of Lily and Budgie. There is absolutely a thread of anti-semitism running through the story and Nick's, Lily's, and Budgie's reactions to it are poignant.
The story is set during Prohibition, although you often forget this while you're reading given the quantity of Champagne and Gin & Tonic these people consume on an average day! Even Lily, the good girl, frequently drinks G & T's on the beach. All this alcohol of course gives the scandal a helpful shove…and who doesn't love stories of rich people behaving badly?!
A Hundred Summers will be included on my upcoming 2014 Summer Reading List (click here to see last year's list).
You May Also Like:
Rules of Civility by Amor Towles
The Big House by George Howe Colt
The Chaperone by Laura Moriarty