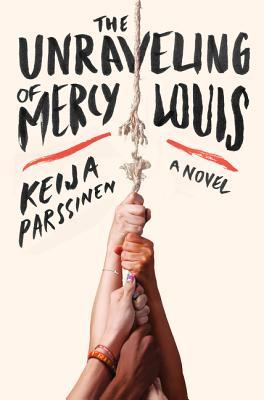 Fiction – Southern
Released March 10, 2015
341 Pages
Bottom Line: Read it.
Affiliate Link: Buy from Amazon

Source: eGalley provided by the publisher via Edelweiss

Plot Summary
"In this intricate novel of psychological suspense, a fatal discovery near the high school ignites a witch-hunt in a Southeast Texas refinery town, unearthing communal and family secrets that threaten the lives of the town's girls", including Mercy Louis, the star of the local high school's state championship contender girl's basketball team. – quotes from Amazon
My Thoughts
The Unraveling of Mercy Louis is one of those books that is incredibly hard to categorize…which is a good thing in my view! It's a mash-up of coming of age, suspense, sports, economic tension, Southern culture (it's set in Texas, but feels more like Louisiana), and religion gone wrong…all gorgeously written. It completely surprised me and I loved it, mainly because it included five things that I'm a total sucker for…
Sports Books (especially those starring female athletes)
I love how Parssinen treats this high school girl's basketball team just like a Texas high school football team (for those not aware, Texas high school football stars are treated like gods). They are aggressive, intensely coached, and are the stars of the small town of Port Sabine, which shuts down for every one of the girls' games. Mercy is focused on getting a college scholarship and celebrated as a local hero, while she struggles with balancing her urge to relax and be happy with the intensity and singular focus required by the team. Plus, there are some great sports quotes:
Cocky, we've been called, and I wouldn't disagree. You don't win championships by apologizing for yourself the way some girls feel the need to do.
Books About High School
Parssinen's portrayal of high school is honest, nuanced, avoids the pitfall of cheesiness, and the primary characters are dealing with serious issues (not just dramatic high school B.S.). The story is told from two perspectives. Mercy gives you the inside perspective of a visible BWOC, while Illa (the basketball team's manager) gives you the view from a less prominent outsider.
Things that Remind me of Friday Night Lights (the TV series)
Championship high school sports team? Check. Tiny town in Texas? Check. Said championship team as great source of hope for said tiny town? Check. Oil centric, but somewhat desperate economic circumstances? Check. Realistic portrayal of high school? Check. All Port Sabine, Texas is missing is RIGGINS!
Southern Eccentricity
Port Sabine is a bit quirky in a bayou version of Midnight in the Garden of Good and Evil kind of way. There are odd, small-town customs, like the "Purity Ball", where young girls publicly promise to remain pure until marriage. Lucille, the town "crazy", lives in the woods practicing herbal medicine. And, Mercy's grandmother and guardian, Maw Maw, is over the top religious, has frequent visions, and thinks the world is going to end on December 31, 1999 (a few months away from the timing of the story).
This slightly mystical background gives the story a sense of foreboding…as if everything will combust at any minute. I'm not usually a fan of any type of mysticism, but I liked it here since it's not the central focus.
Great Writing
When those forty-seven people died in the refinery blast three years ago, Jesus and God and the Holy Ghost, as well as the other trinity of small-town life – drink and smoke and talk – left people comfortless, so Mercy became the town's beacon.

Such a funny thing, shame, that in the scramble to avoid it, you forget who has the right to shame you in the first place.
The Unraveling of Mercy Louis is a quirky, suspenseful, yet substantive book that is going on my Book Club Recommendations List and will be on my Summer Reading list coming in May (click here for last year's list).
You May Also Like:
Dollbaby by Laura Lane McNeal
My Sunshine Away by M.O. Walsh
The Fever by Megan Abbott