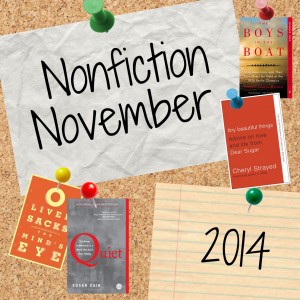 I'm excited to participate for the first time in Nonfiction November hosted by Katie at Doing Dewey, Kim at Sophisticated Dorkiness, Becca at I'm Lost in Books, and Leslie at Regular Rumination. I realized that I'd read a woefully small number of nonfiction books this year, which is not like me, so I'm excited to make up for that this month!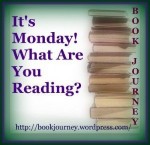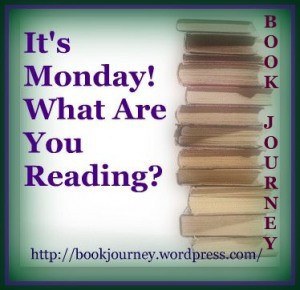 I'm also going to link this post to Book Journey's It's Monday, What Are You Reading? since it more or less answers the question of what I'm reading.
My Year in Nonfiction
It pains me to write this, but my year in nonfiction has been almost nonexistent…and I didn't even realize it! When I first found out about Nonfiction November, I checked my 2014 Books Read List and was horrified to discover that I'd only read two nonfiction books that were not cooking books or memoirs. I really like nonfiction and usually read a fair amount of it…what happened this year?! Needless to say, that was certainly a motivation for me to make sure to participate in this event!
What was your favorite nonfiction read of the year? What nonfiction book have you recommended the most?
Well, this one isn't hard to answer considering I haven't read many yet (but Nonfiction November will improve that a bit)…
What is one topic or type of nonfiction you haven't read enough of yet?
Definitely sports books – I love reading sports stories and usually read a lot of them (I even have a Sports Books List on this blog). But, I sadly haven't read a single one this year! I do plan to change that this month with this book about a Pennsylvania steel town's (Braddock) football team's amazing 1959 season on the heels of the longest labor strike in U.S. history: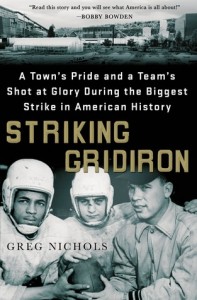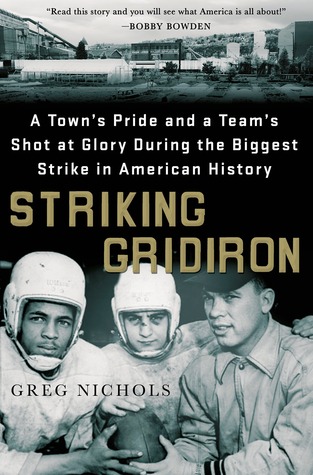 What are you hoping to get out of participating in Nonfiction November?
Read some nonfiction to make up for my lack of attention to the genre this year! I'd also like to add some more nonfiction titles to my TBR list.
Here are my reading plans for Nonfiction November (I've gotten a head start on a couple of them already)…

I might also throw a fiction or two (probably Us by David Nichols and Spoiled Brats by Simon Rich) in there to make sure I don't suffer from "genre burnout".
How has your year in nonfiction been so far? Are you participating in Nonfiction November?