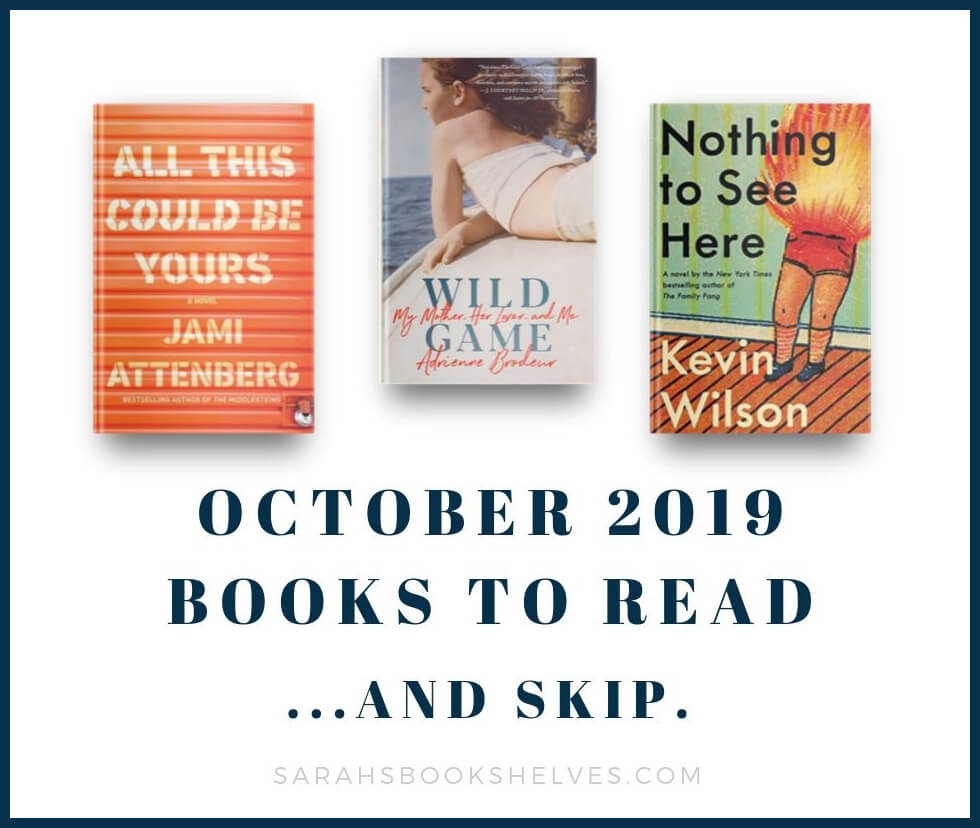 October releases were an embarrassment of riches! The books that didn't make my favorite of the month could have been my favorite many other months of this year. It's just that they had tough competition this month. There were no "skips" or DNF's this month!
And, 2 out of 3 of these were Book of the Month picks…great taste, BOTM!
Hosted by Modern Mrs. Darcy.
This post contains affiliate links (plus: here's your Amazon Smile-specific affiliate link
).
Favorite Book of October 2019
Wild Game
by Adrienne Brodeur
Nonfiction – Memoir (Release Date: October 15, 2019)
256 Pages
Affiliate Link: Buy from Amazon

Source: Publisher (Houghton Mifflin Harcourt)

Plot Summary: Brodeur's story of her role as facilitator of her mother's affair with her stepfather's best friend starting at the age of fourteen.
My Thoughts: Wild Game is my first 5 star memoir of 2019 and I flew through it in two days! It's an incredible, yet sad and disturbing story. Malabar ("Rennie's" mother) is a vibrant, but highly manipulative character and she has her tentacles wrapped tightly around her daughter…and all this impacts Rennie's adult life. But, this isn't what makes this memoir shine. Brodeur can write…and the Cape Cod setting comes alive through vivid descriptions of the water, the wildlife, and the food. Malabar is a cookbook author and food writer and food plays an integral role in this story. The book world is full of mother / daughter stories, but this one is unique and Brodeur shows a high level of self-examination in her adult life as she looks back on her childhood, even as she has trouble taking the necessary steps to extricate herself from its damage. Put this one on your reading list for Nonfiction November!
With Malabar, I was still the accomplice, the girl behind the wheel of the getaway car, revving the engine outside the bank, ready to drop it into gear as soon as she came running.
Also Read These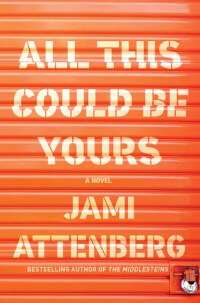 All This Could Be Yours
by Jami Attenberg
Fiction – Literary (Release Date: October 22, 2019)
304 Pages
Affiliate Link: Buy from Amazon

Source: Publisher (Houghton Mifflin Harcourt)

Plot Summary: When Alex's father (a shady businessman) has a heart attack, she rushes to New Orleans to try to learn who he truly was and understand why her mother (Barbra) stayed married to him. 
My Thoughts: 2019 has been a stellar year for family dramas and All This Could Be Yours may be the darkest of them all! The level of family dysfunction is high, but what makes it truly dark are the thoughts and feelings of each of these family members. If you need hope in your books, this probably isn't the choice for you. The story examines what happens when someone you're "supposed to love" is in danger of dying, but you don't feel the grief you're "supposed to feel." I'm sure this happens often in real life and I'm equally sure that it's rarely admitted openly. Not surprisingly, this book is full of dark, morbid humor. And, I'll venture to say that you may not be able to relate to it if you had a normal, happy childhood…but, for those that didn't, this story will speak to you. 4.5 stars and it's going on my all my Book Club Recommendations lists (including Short and Coed)! 
Her gut told her he should be in jail right now, he really should. If he weren't dying. None of this behavior ever questioned. She had never heard him say "I'm sorry" once in her life. Her father was one-way, and allowed to be, because he was the father.
Nothing to See Here
by Kevin Wilson
Fiction – Brain Candy (Release Date: October 29, 2019)
272 Pages
Affiliate Link: Buy from Amazon

Source: Publisher (Ecco Books)

Plot Summary: Lillian, a scholarship kid, and Madison, an heiress, become friends at their Tennessee boarding school. Years later, Madison is married to a U.S. Senator and asks Lillian to serve as "governess" for her ten year-old stepchildren. But, the stepchildren catch fire when they get upset and Senator Roberts is gunning for higher office. 
My Thoughts: When I shared this book on my 2019 Fall Preview podcast episode, I'd heard good things, but I was nervous about the outrageous premise (kids literally catching on fire when they're upset). I usually like my fiction firmly rooted in reality; however, I'm a mother, so I appreciated this idea as a metaphor. What parent hasn't witnessed an epic tantrum where your child starts to resemble the girl from The Exorcist? This book seamlessly combines dark humor with warmth into brain candy that has sass and heart. I felt for these lonely children and for Lillian, who struggles in her own life. Lillian's salty, filter-free commentary on rich people's eccentricities and her rough-around-the-edges demeanor balance out the unrealistic premise. And, Madison's private interactions with Lillian resemble going behind-the-scenes of a reality TV show – with Madison trading her "political wife" veneer for brutal honesty. Plus, the ending is awesome in a karma-will-bite-you kind of way. A sweet, but not eye-rollingly saccharine story. P.S. – I recommended this book for Book of the Month in October!
And there were these two kids, and they burst into flames. And I had known them for less than a week; I didn't know them at all. And I wanted to burst into flames, too. I thought, How wonderful would it be to have everyone stand at a respectful distance?
What's the best book you've read so far this month?
Pin this post…