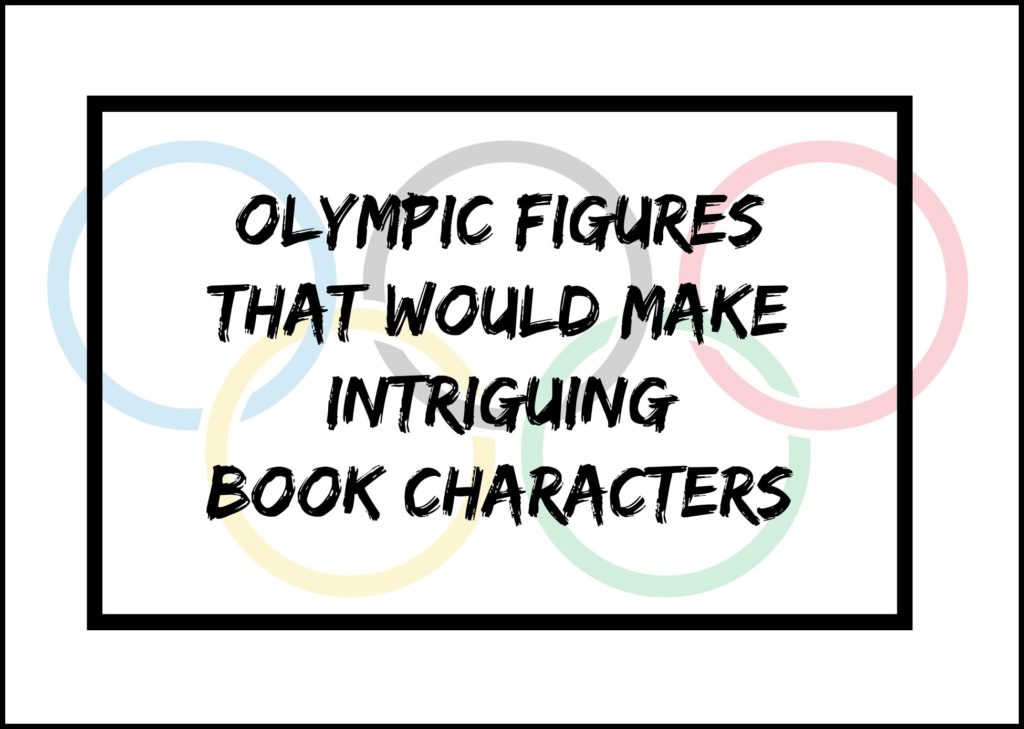 One of my favorite parts about the Olympics are the stories behind the many colorful characters involved in the Games. Some are heartwarming, some are heartbreaking, some are inspiring, some are scandalous, and many encompass all of these qualities. It dawned on me that similar qualities can make fiction incredibly compelling…leading me to think about what Olympic figures would make intriguing book characters (if many of them didn't already star in their own memoirs!). Let's get to it…
Olympic Figures That Would Make Intriguing Book Characters
Tonya Harding
You're probably familiar with the Nancy Kerrigan saga, which is one of those "truth is stranger than fiction" stories. What you may not know is that Harding was the first American woman to land the difficult triple axel in competition. After retirement from figure skating, she and her husband sold a sex tape to Penthouse and she fought Paula Jones (of Bill Clinton fame) in a Celebrity Boxing bout, going on to somewhat of a boxing career.
Memoir: The Tanya Tapes (which doesn't seem to be listed on Goodreads or Amazon)
Caitlyn Jenner
I'm pretty sure this one needs no explanation unless you've been living under a rock.
Memoir: In progress.
Bela Karolyi
Coached both Romanian and U.S. gymnastics teams to Olympic gold. Responsible for some of the most successful female gymnasts in history (Nadia Comăneci, Mary Lou Retton, Dominique Moceanu). Criticized for his brutal training methods. Defected to the U.S. in 1981. Colorful personality. And, this from the 1996 Atlanta Olympics…"YOU CAN DO IT, KERRI!"
Greg Louganis
The first male in history to win back to back double gold medals in Olympic diving events (1984 and 1988). What you probably remember is him hitting his head on the 3M springboard at the 1988 Olympics…then going on to win gold anyway. He subsequently announced that he is gay, HIV positive and was infected during the 1988 Olympic board-hitting incident. What you may not know is he struggled with substance abuse and depression following his retirement from competitive diving and was in an abusive relationship. He is now recovered, happily married, and is a LGBT rights activist. He was also in the first inductee class of the National Gay and Lesbian Sports Hall of Fame.
Memoir: Breaking the Surface
Dominique Moceanu
Hyped as the would-be star gymnast of the 1996 Atlanta Olympics at age 14, she competed with a stress fracture in her leg and didn't perform up to expectations. She won emancipation from her parents at age 17 after they squandered much of her professional gymnastics earnings. She went on to write a memoir revealing a long lost sister that her parents had given up for adoption and skewering her long-time coach, Bela Karolyi's, training methods and her father's overbearing and threatening behavior (including threatening to hire a hitman to "take out" one of Moceanu's former coaches).
Memoir: Off Balance
Jesse Owens
Four-time track and field gold medalist at the 1936 Berlin Olympics. As an African-American, he served as a powerful symbol juxtaposing the Nazi belief in Aryan supremacy on display in Berlin…and his success apparently annoyed Hitler.
Oscar Pistorius (aka "The Blade Runner")
His legs were amputated as a baby and, after resounding success in the Paralympic Games, he successfully petitioned to compete in the non-disabled competition at the 2012 London Olympics. Much controversy about whether his artificial legs gave him a competitive advantage ensued. Heart-warming story until this point, no? Then, he was convicted of murdering his girlfriend.
Memoir: Blade Runner: My Story
Wilma Rudolph
After contracting polio as a child and wearing a brace on her leg until age nine, Rudolph became a two-time Olympian, becoming the first American woman to win 3 gold medals in a single Olympics at the 1960 Rome Games.
Dara Torres
Five-time Olympic swimmer who returned to competition after two separate eight year retirements (and the birth of her daughter) to win three silver medals in Beijing in 2008 at the age of 41. She attempted to qualify for the 2012 London Games at the age of 45, finishing a heart-breaking 3rd place at the U.S. Olympic Trials and missing her 6th Olympic Team by 0.03 seconds. To put all this in perspective, Torres was the oldest member of the 2000 Olympic swimming team at the age of 33, eight years before her 2008 Beijing performance.
Memoir: Age Is Just A Number
Katarina Witt
Two-time Olympic figure skating gold medalist (1984 and 1988) from East Germany. Used as a propaganda figure by the East German government during the Cold War. Was closely surveilled by her own government while being lavished with gifts such as cars, accommodations, etc. After retiring from skating, did a bit of acting and posed for Playboy.
Memoir: Only With Passion