In July, I had a reading streak of absolutely perfect light reads that would be great for vacation. All these books will be going on my 2016 Summer Reading Guide.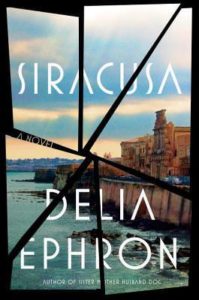 Siracusa by Delia Ephron
Fiction (Released July 12, 2016)
304 Pages
Bottom Line: Read it.
Affiliate Link: Buy from Amazon

Source: Publisher (Blue Rider Press) via NetGalley

Plot Summary: Relationships are put to the test when two couples (and one couple's somewhat odd daughter) vacation together in Italy.
My Thoughts: Siracusa might be my favorite vacation-type read so far this year! It's light and fast-moving, but also smartly written. The story is told from each of the four adults' perspectives and the writing style shifts with each voice. Going into the trip, both marriages had their own issues, with each spouse frequently mocking his/her partner. As the trip takes on a somewhat surreal quality, everyone starts acting out…refusing to hide their pent-up resentments any longer. Ephron generates suspense by dropping little hints about innocuous moments that later take on greater meaning…contributing to the feeling that things are eventually going to combust.
Beyond the story itself, the characters' musings on everything from marriage and cheating to travel and the writer's life allowed Ephron's writing to shine and kicked this book a notch above other vacation reads for me.
I must have understood more than I realized, how fragile things between us were. Now I do nothing but look at things other ways, flipping them up and around, examining them, trying to understand at the very least my own obtuseness. I think, I really do torture myself with this: Surprises don't come from people we know well, certainly not people we love. We call them surprises but they are inevitabilities. I must have been playing a role, a starring role, in an inevitability.
Siracusa is a fantastic choice if you're heading on vacation (particularly to Italy).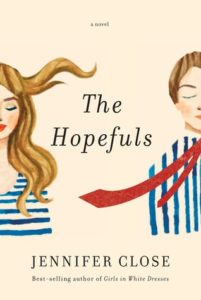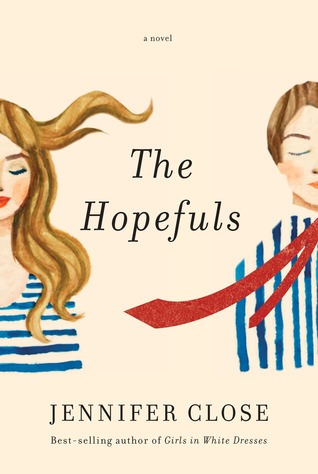 The Hopefuls by Jennifer Close
Fiction (Released July 19, 2016)
320 Pages
Bottom Line: Read it.
Affiliate Link: Buy from Amazon

Source: Purchased (Publisher: Knopf)

Plot Summary: When young couple Matt and Beth Kelly move from New York City to Washington, D.C. for Matt's job, they must navigate marriage and friendship in the political world.
My Thoughts: While The Hopefuls is set in the political world, it's not a book about politics. Rather, it's a book about marriage and friendship set against the backdrop of politics. Beth finds D.C. an odd and unwelcoming place until she and Matt meet the Dillons, another couple who will become their best friends. Beth is an accessible and relatable narrator and her witty commentary about the douche-y D.C. politicos had me chuckling. Maybe it was her pop culture references (including one about Friday Night Lights!) or her propensity to point out D.C. traits I would also find annoying or the fact that she and Matt's time in NYC coincided with mine, but I felt like she was speaking my language. The Hopefuls also tackles themes that resonated with me: making new friends as adults (and navigating the boundaries of said friendships), the nosiness of small towns, and trying to find your footing in a new place.
Here's what I still hate about DC: the way that nothing is permanent, the feeling that everything and everyone you know, could (and does) wash away every four or eight years. All of these important people, so ingrained in the city—you can't imagine that this place could exist without them. But one day they're gone and everything keeps moving just the same. Who can get their footing in a place like this? It feels like quicksand to me.
My only complaint was that the ending wrapped things up a little too nicely, yet didn't. The question of where the characters end up was answered, but some large issues that figured prominently in the storyline and certainly should have impacted the outcome of the book were left unexplored. Despite the unsatisfying ending, I thoroughly enjoyed the ride (which, as I discussed here, is generally more important to me anyway) and highly recommend The Hopefuls as a light, relatable summer read.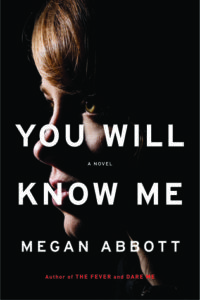 You Will Know Me by Megan Abbott
Fiction (Released July 26, 2016)
352 Pages
Bottom Line: Read it.
Affiliate Link: Buy from Amazon

Source: Purchased (Publisher: Little, Brown)

Plot Summary: A tragic accident throws fifteen year-old gymnastics prodigy Devon Knox and her family's carefully constructed training plans into chaos. 
My Thoughts: If you're looking for a book that you can fly through, this is it. Megan Abbott writes young girls in the most deliciously demented way (see The Fever and Dare Me) and what better world for characters like that to inhabit than elite gymnastics. Only this time Abbott throws in a pack of overly zealous parents to deepen the appeal. She choreographs a meticulously drawn world of tiny powerhouse girls, parents who push all else aside to "help" their daughters achieve "their" dreams, and families whose literal (mountains of credit card debt, multiple mortgages) and figurative fortunes ride on their daughters' young shoulders. 
A few months later, after placing sixth on beam and bars in the Level 10 Junior Nationals in sunstruck Orlando, she was ranked first among all Level 10s in their home state. "The greatest day of our life," Devon said, and everyone laughed at the our, except it was true, wasn't it?
Though the central plot points weren't entirely unexpected, Abbott's writing style had me on the edge of my seat, frantically turning pages, even though I was fairly confident I knew how this would end. The paragraphs are short…with an almost breathless quality and I could feel the tension crackling. If you're not getting a big enough gymnastics fix during this week's Olympics competition or just want a page-turning beach read, You Will Know Me is your ticket.