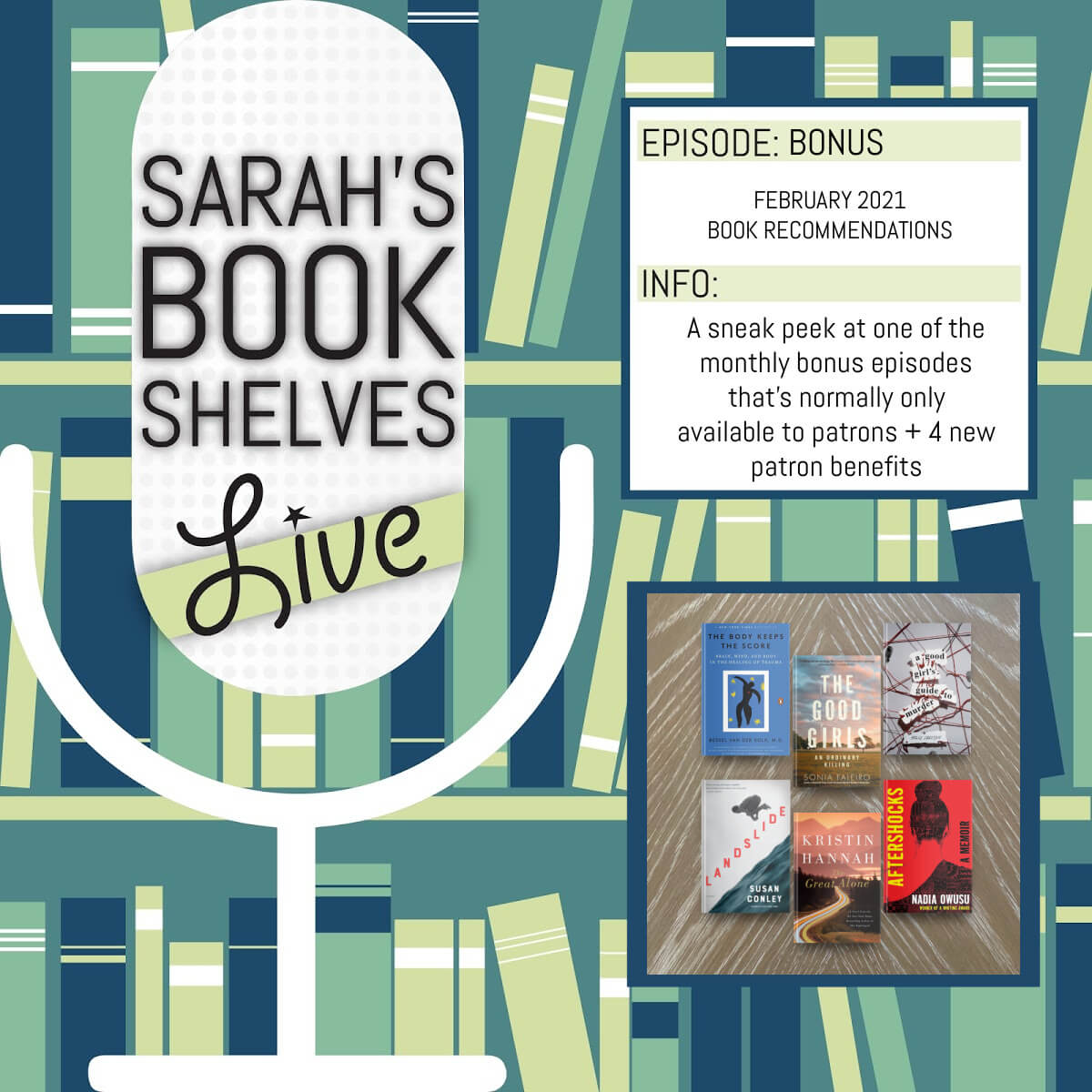 In this special bonus episode, I share 4 new benefits for podcast patrons and listeners get to hear my February 2021 Book Recommendations episode, which is normally only available to patrons.
This post contains affiliate links (plus: here's your Amazon Smile-specific affiliate link
), through which I make a small commission when you make a purchase (at no cost to you!).
Patron Benefits (including 4 New Benefits)
Support the podcast on Patreon here!
For $5 a month, you'll get access to…
NEW: Book Preview Extras bonus podcast episode (quarterly episode featuring additional new releases Catherine Gilmore and I are excited for that we didn't talk about on the big show's Preview).
NEW: Weekly "Real-Time Reading" newsletter and Facebook discussion (quick overview of what Sarah is currently reading, just finished reading, DNF'd, and is thinking about reading next).
NEW: Monthly Recap newsletter (quick thoughts on every book I read that month + round-up of all Patron benefits for that month).
NEW: Patrons' Best Books of the Year Tournament (bracket-style with bonus podcast episode breakdown). 
Monthly "Superlatives" bonus podcast episodes (every full length episode guest will answer 5 bookish "superlative" questions just for Patrons).
Monthly "Book Recommendations" bonus podcast episodes (Sarah shares her own book recommendations in the same format as the big show).
Goodreads Choice Awards Breakdown (bonus podcast episode).
25% discount on purchase of my Rock Your Reading Tracker and access to a bonus podcast episode about how to use the tracker.
Priority placement on the waiting list to appear as a guest on a mini episode of Sarah's Bookshelves Live (currently on hold).
the Sarah's Bookshelves Live Patrons-Only Facebook Group where you can share book recommendations with other Sarah's Bookshelves Live listeners, ask for recommendations, share your thoughts about upcoming podcast episodes, suggest questions for podcast guests, and get exclusive behind the scenes information from Sarah.
For $3 a month, you'll get…
the Sarah's Bookshelves Live Patrons-Only Facebook Group (see details above).
Your support will go towards…
First and foremost, I'll be using this money to pay for a professional podcast editor. This means better audio quality for you and a considerable amount of time freed up for me to develop more bookish content for you.

I'll also be using this money to cover the general expenses of producing a podcast (hosting fees, recording software, recording equipment, etc).
Sarah's Book Recommendations [9:49]
Two OLD Books She Loves
Two NEW Books She Loves
One Book She DIDN'T LOVE
One NEW RELEASE She's Excited About
Other Books Mentioned
The Nightingaleby Kristin Hannah (My Review) | Buy from Amazon [23:46]

Beautiful Thing: Inside the Secret World of Bombay's Dance Bars

by Sonia Faleiro | Buy from Amazon [26:17]

We Keep the Dead Close

by Becky Cooper (My Review) | Buy from Amazon [26:36]
Other Links Mentioned
Next Episode
Next week, there will be a full length episode featuring Laura Tremaine, the author of Share Your Stuff. I'll Go First. and the host of the podcast 10 Things to Tell You (airing February 17).
Support the Podcast
Support on Patreon – When you support the podcast on Patreon for $5/month, get bonus podcast episodes and other goodies!
Share
If you like the podcast, I'd love for you to share it with your reader friends…in real life and on social media (there's easy share buttons at the bottom of this post!).
Subscribe
…wherever you listen to podcasts, so new episodes will appear in your feed as soon as they're released.
Rate and Review
Search for "Sarah's Bookshelves" in Apple Podcasts…or wherever you listen to podcasts!