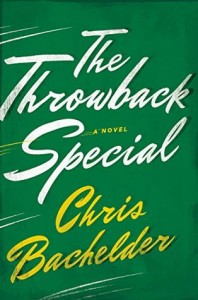 The Throwback Special by Chris Bachelder
Fiction (Released March 14, 2016)
224 Pages
Bottom Line: Read it…if this is your niche (see below for details).
Affiliate Link: Buy from Amazon

Source: Purchased (Publisher: W.W. Norton) 

Plot Summary: Bachelder uses an annual gathering of a group of middle aged men to reenact the 1985 NFL play where Lawrence Taylor broke Joe Theismann's leg (and ended his career) to opine on broader life themes.
My Thoughts: The Throwback Special is a book that's about far more than the title and summary suggest. It's about life (marriage, parenting, insecurities, human behavior, etc) with a weird football tradition as the backdrop, not the other way around. The somewhat laughable "middle aged dudes gather to incredibly seriously reenact a famous football play" premise works because Bachelder's social commentary and writing are pitch perfect…and the characters frequently drop socially inappropriate bombs about their personal lives and thoughts in the middle of mundane conversation. The book opens with each player arriving at their nondescript hotel and it reads like the opening scene of The Dinner…with social commentary so biting and spot-on that you don't realize all the characters have done is arrive at a hotel (or, at a restaurant, in The Dinner's case).
The men had reached an age when they gained or lost significant things in relatively short periods of time, and it was not unusual for someone to show up in November having acquired or divested weight, God, alcohol, sideburns, blog, pontoon boat, jewelry, stepchildren, potency, fertility, cyst, tattoo, medical devices that clipped to the belt and beeped, or huge radio-controlled model airplanes.
I suspect this book has a niche, rather than a broad appeal (but, it falls squarely in my niche!). If spot-on social commentary, male friendships/behavior (similar to Shotgun Lovesongs), sports (you don't have to be interested in football to enjoy this book, but it is a bonus), and darkness simmering beneath the mundane (similar to Why They Run the Way They Do) push your buttons, grab this book! If you need more action, this one probably isn't for you.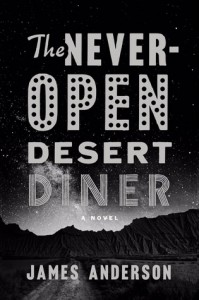 The Never Open Desert Diner by James Anderson
Fiction (Released March 22, 2016)
304 Pages
Bottom Line: Skip it.
Affiliate Link: Amazon

Source: Publisher (Crown) via NetGalley

Plot Summary: When quiet truck driver Ben Jones stumbles upon a mysterious woman in the remote Utah desert, his life takes a series of odd and dangerous turns.
My Thoughts: The Never Open Desert Diner begins quietly, with a strong sense of place and a eerie, Twilight Zone-type feeling…all of which held promise for me. I enjoyed the concept of a creepy diner in the middle of nowhere that, while perfectly maintained, is never open to the public. And, lovable curmudgeon Walt Butterfield (the diner's owner) and "down on his luck, but trying to do the right thing" Ben Jones were both characters I could get on board with. BUT…
At the 20% mark, I had no idea where the book was headed and was kind of excited about that prospect. But annoyance set in when I felt the same way at the halfway point. I needed some sort of bone to keep me going because the writing itself, while fine, wasn't carrying the book alone. When the action finally did pick up, it was completely ridiculous and eye-roll inducing. I really wish I could tell you the two lynchpins to the ending without spoiling the book because you might snort with laughter.