Both these books have ladies in profile on the covers, yet the covers have such different feels! And, so did the books…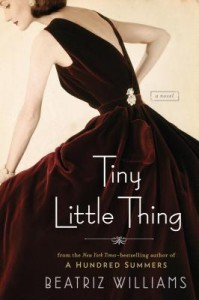 Tiny Little Thing by Beatriz Williams
Fiction (Released June 23, 2015)
368 Pages
Bottom Line: Read it.
Affiliate Link: Buy from Amazon

Source:  eGalley provided by the publisher via NetGalley
Plot Summary: While spending the summer of 1966 at her husband's family's Cape Cod compound, perfect political wife Tiny Hardcastle (the oldest of the Schuyler sisters from The Secret Life of Violet Grant) begins to crumble under the pressure of maintaining appearances.
My Thoughts: If you read this blog regularly (especially around summer time!), you know that Williams' A Hundred Summers is my favorite quintessential beach read…and she's back with another book that's perfect for summer! The Hardcastle family that Tiny married into is a bit Kennedy and a bit Cleary from "Wedding Crashers". Tiny struggles against the family's expectations to portray a pretty picture at all costs. And, her struggle with her identity as a woman and her fight to maintain a sense of herself within her high profile marriage provide just enough substance to keep things interesting. The story is told in alternating time periods (1964 and 1966) and the suspense lies in how everyone got from Point A in 1964 to Point B in 1966. Tiny's voice is a bit tongue in cheek, which I loved, and I had a literary crush on Caspian, Tiny's cousin by marriage! Tiny Little Thing is a quick-reading, fun beach read starring some wealthy people behaving badly (one of my favorite summer topics!) and is going on my 2015 Summer Reading List.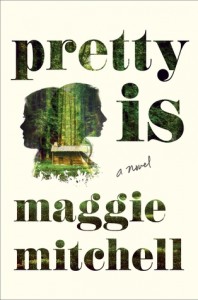 Pretty Is by Maggie Mitchell
Fiction (Release Date: July 7, 2015)
318 Pages
Bottom Line: Skip it.
Affiliate Link: Amazon

Source:  eGalley provided by the publisher via NetGalley
Plot Summary: Almost two decades after twelve year old Lois and Carly May were abducted by a charming stranger and held captive in the woods for two months, they are forced to revisit the past.
My Thoughts: I had such high hopes for this debut novel, especially after highlighting about 3/4 of the first three paragraphs. I was expecting a story that focused on the psychological impact of the kidnapping on the girls (particularly, why they went willingly and their attitudes toward their kidnapper) and the reactions of their families upon their return. Unfortunately, things proved a bit uneven. The story is told through present day sections from Lois' and Carly May's perspectives and sections about the actual kidnapping and immediate aftermath twelve years earlier. I got what I was looking for from the kidnapping sections, but the present day sections lost me, especially Carly May's. I just couldn't make myself care about her B/C list acting career. While I did enjoy parts of Lois' perspective, her interaction with a student in her class was too big of a stretch of the imagination for me.